Plus Size Halloween Costumes
For our friends who have difficulty with regular sized costumes, there are Plus Size Costumes in just about every costume you can think of too. Gone are the days that larger persons have to make their own Costumes or do without. Most stores now carry costumes for Plus Size Ladies as well as Plus Size Men. Maybe you are very tall..or like myself, broad of behind...Please don't be discouraged because you can dress up and rock n' roll right along side anyone for your Halloween fun. Through these pages you will be pleased to find just the Plus Sized Costume to fit your personality as well as your body. For a time you can step out of yourself and be whomever your persona is in Costume.
| | | |
| --- | --- | --- |
| Foliage Fairy | Classic Clown | Lady Jane |
Frank Bee has costumes of all types for full figured persons as you see in the GREAT Costumes above.
Below are two plus size costumes from Shindigz.
Elvira Plus Size Costume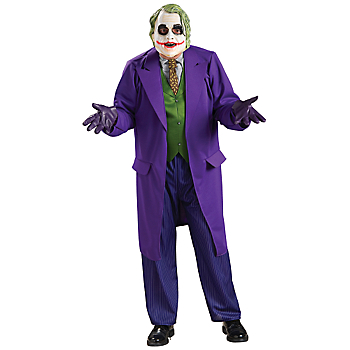 The Joker Plus Size Costume
The Plus Size Costumes below are from Costume Kingdom:
| | |
| --- | --- |
| Olive Oyl Costume | Popeye Mens Big & Tall Costume |
Ghostly Lady Costume
His and Hers Plus size Pirate Costumes
As I mentioned above, MOST Costumes that can be found... can also be found in PLUS sizes (Especially in the larger Costume outlets..like Costume Kingdom, just above..and Buy Costumes, banner near the top). SO! Don't hesitate to ask for a plus size if you cannot find exactly what you want on your own. You may be very surprised at the "progress" the clothing/costume industry has made in recognizing that most people are NOT a perfect size 6..or even 8..or even 12 for that matter! Ü
Check out all of my Costume pages and when you click on a costume you like..you will be taken to the store where you can then check to see if they have that specific costume in Plus sizes. I bet they DO!