Corona 6 Pack Group Costume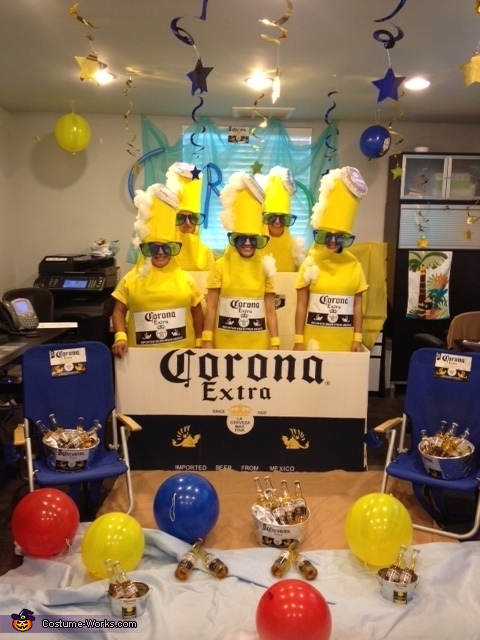 Coronas in paradise
More views:
(click to enlarge)
A word from Ana, the 'Corona 6 Pack' costume creator:
We got this idea from a bud light costume we seen. And yes this took us two weeks to put together, thats including the box. We used a lot of felt and simple 99 cent items... alot of team work.
Here are the instructions:
All Material was bought at Michaels (Craft Store)
For the top we used mini trash cans and we wrapped them with yellow felt we used spray on adhesive.

Then we used yellow felt for the body and we cut out a big hole for the face.

For the back of the costume we used velcro to make it stay. The kind that you can stick on to any fabric.

Then we had a friend print out the sticker for the corona logo.

For the top of the bottles we used pie tins and cotton.

For the corona box we used poster boards painted it blue and let it dry. We printed the logo really big and cut out each individual letter. Taped the poster board on the inside.