Homemade Costumes for Kids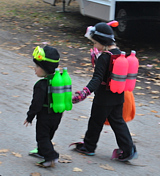 Kids are often particular on what they want to be each year for Halloween, and when the store doesn't have it or its quality is less than expected, homemade options become the best choice.
Whether they are participating in Halloween parades, having a party in their class at school, or just trick-or-treating in the neighborhood, deciding on the perfect Halloween costume each year becomes an important task. By making Halloween costumes by hand to suit kids' individual interests, memories can be created, especially when they help in their picture-worthy costume creation!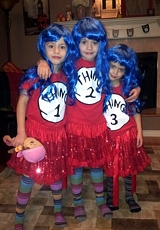 Even if they are demanding to be their favorite Disney princess or super hero, homemade Halloween costumes allow for exact customizations and often end up being their favorite Halloween costume they've ever worn. Many of the DIY costumes for kids below are completely original, hilariously awesome and too-cute!
Creating unique costumes for little ones can be rewarding especially when they look better than those which were store bought. Perhaps you're out of ideas this year and are looking for something unique? Be sure to check out these creative homemade costumes for kids from our online Halloween costume contest!
See also:
You're viewing page 1 of 46.

Back to Costume Gallery Main Page