Homemade Costumes for Adults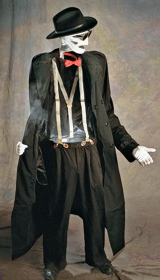 Children aren't the only ones who get excited about Halloween, adults do too! Whether it is for Halloween parties, contests, or other social events, original Halloween costume ideas are something adults search for too. All of the Men and Women costumes you see below are completely unique and homemade. It's always a good idea to opt for homemade Halloween costumes if you have the time because that way there's a good chance you won't see anybody else with your exact costume while enjoying your Halloween festivities.
If you're indecisive on what to be for Halloween this year, maybe some of these costumes can inspire you to be creative and make your own cool Halloween costume. Especially when on a budget, homemade costumes can provide you with an awesome "one of its kinds" costume usually at a cheaper price than purchasing a costume like everyone else have at Halloween superstore. Check out these unique Men and Women costumes, which are all homemade and from our Halloween costume contest!
More adult costumes:
You're viewing page 1 of 35.

Back to Costume Gallery Main Page