Homemade Costumes for Men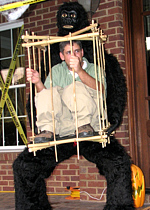 While women might spend more time contemplating Halloween costume choices, men can't go without a costume as well! Below are contests' homemade Halloween costumes from our online Halloween contest. Many popular Halloween costumes for men mimic characters from action movies, or even celebrities. Sometimes it can be difficult to find exactly what you want in stores, many people, including these costume contestants, prefer homemade costumes.
Creative and custom-made costumes can be much more fun to go out in than the typical costumes everyone else is wearing. Often time's, men don't necessarily care what costume they wear, or if they even wear one, but their family and friends often encourage it for social events, therefore unique Halloween costumes become an important item for the highly celebrated holiday. Men's costumes like the ones below from our contest are fun, humorous, and unique, all of which are perfect for attending Halloween festivities!
Relevant categories:
You're viewing page 1 of 50.

Back to Costume Gallery Main Page