Cartoon Costumes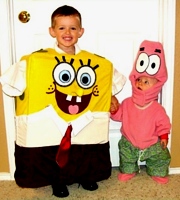 It'll come as no surprise that your children want to dress up as their favorite cartoon character for Halloween, especially as much time as they spend watching them on television. Whether it's their favorite princess or hero, you can guarantee you'll get a pretty vocal request for you to make it happen! If you're looking for inspiration for a costume, take a gander through our cartoon costume contest entries. You'll find dozens of unique and hilarious ideas to outfit your child and not break the bank.

Kids love the recognition they get from their friends when they go trick-or-treating or to their school party dressed as a character they all admire. Whether it's their favorite superhero or their most cherished toy, nothing delights them like the recognition that they get from their friends. Of course, many of their friends have had the same idea. Make your kid's costume unique by putting together a costume that's not store-bought and sets their look apart. The attention they receive for a clever add-on will make them beam with pride.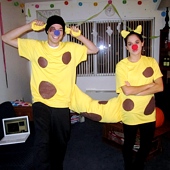 Of course, cartoon characters are not just for kids – Halloween's the one day where adults can express themselves as they wish. It's particularly fun if you physically resemble a cartoon character in some way or other. If you haven't a particular favorite in mind but are looking for a great and inexpensive idea to dress up, then try out our cartoon character gallery. Showing up with your date as a hero/villain combination or part of a set can be hilarious.

Get the whole family in on the act as well! Cartoon characters provide you with a wealth of ideas – go as a cartoon family such as The Flinstones or The Simpson. You'll get tons of ideas from browsing our entries. And don't forget to enter our contest with your own version of cartoon characters in the future!
You're viewing page 1 of 34.

Back to Costume Gallery Main Page