Comic Book Costumes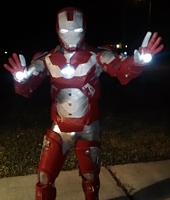 Comic book characters spend their lives in costume to accomplish great deeds. We usually only get one night. Halloween is a day to hide ourselves in costume, but it is also a special night that allows us to reveal our true identities. If you're a closet super hero, or even super villain, Halloween is your night to shine! There are many super-powered costume options to meet all needs. Even superheroes get stuck once in awhile, but don't worry – this collection of comic-inspired costumes is sure to spark the perfect Halloween plot!
Dressing as your favorite comic book character is much easier than you think. Many costumes can be thrown together with things around the house or other low cost items. You can also personalize costumes to fit your personality. Is the traditional Batman boring and bland? Try the rockabilly version! Want to embody your favorite comic book frame, complete with speech bubble? Let the world know what's on your mind – even if it never appeared in actual print.
There are no limits when it comes to comic books, and this definitely applies as you choose your costume. Be a female ninja turtle, turn Fido into a 'superdog' complete with mask and cape, or add a new accessory to your favorite character's arsenal. Just because Superman didn't do it doesn't mean it isn't fashionable! Superheroes and other comic book favorites make great costume ideas for young and old. Even babies and children love dressing up as these well-known icons.
Superheroes (and villains!) don't always work alone. If you're traveling with your very own league of super-powered personalities, don't fret- there are many ideas for coordinating your group. Band together as the X-Men or visit the Great Pumpkin as the Peanuts gang. If 'good' isn't your style, perhaps you can team up as Batman's adversaries. Creative options, like taking a trip as the Magic School Bus class, show that there are no limits to the Halloween magic. Couples and smaller groups can easily team up as a dynamic duo. Batman and Robin are only the beginning when it comes to coordinated costumes!
Can't decide who your favorite character is? You could even embody your love for comics as a walking comic book. Display your favorites proudly as you party hop or trick-or-treat. Whatever you choose, these easily recognizable costumes are sure to be as timeless and awe-inspiring as the characters and stories they represent.
You're viewing page 1 of 10.

Back to Costume Gallery Main Page