Video Game Costumes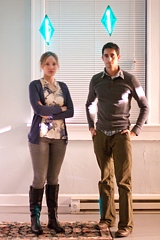 At a loss for a unique Halloween costume idea this year? Don't give up and settle for being a zombie – again. Especially when some of the best ideas are right in front of your nose. Just take a look at your computer and you can find thousands of video game Halloween costume ideas!
Not only do you have dozens of characters in each game to choose from, but there are hundreds of video games and the costumes can be adapted for adults and children.
For example, Angry Birds is a popular game right now and everyone recognizes those characters. Several of our readers sent in pictures of their children dressed up in homemade Angry Birds costumes, like the kids in this picture, Angry Birds Iowa Style, and this picture of Paper Mache Angry Birds. But these characters can just as easily be adapted to adult costumes, like Angry Birds Playing iPad and Angry Birds Homemade Style.
Angry Birds is just one game though and you might be the type who wants to dress as something a little more daring and devilish than a cute little cartoon character. If that's the case, what's your favorite game? Minecraft? Plants vs. Zombies? Mortal Combat?
Most games have a variety of characters that cover the full spectrum from really good to truly evil. For example, check out this homemade Halloween costume rendition of Kerrigan, Queen of Blades. You sure wouldn't want to run into her in a dark alley in the middle of the night!
One reason video game Halloween costumes are such a great idea is because each game has so many different characters you'll never be at a loss for ideas. And if you're going to the party as a couple, or as a member of a large group, you could each be your favorite character from the game and still have plenty of costume ideas to choose from.
Take a look at this group of party-goers who all decided to dress up as their favorite characters from the Mortal Combat video game - Mortal Combat Characters. Why, they have enough people in their group to host their own Halloween party!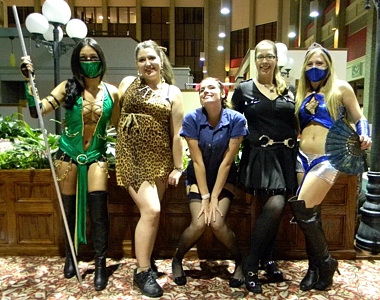 And that's another great idea. Do you and your friends all play the same video game? Are you all members of a guild or club? Why not host your own World of Warcraft Halloween party, or a Rift party or Dragons of Atlantis? If you're hosting a children's Halloween party have everyone come as their favorite Neopets character or an Angry Bird or a whatever the current favorite kids' game is.
It's easy enough to come up with a costume to represent your favorite video game character. If you're having a hard time finding what you need close at hand, just visit one of the online costume shops to pick up the basics and then add your own special details to turn it into the character of your choice.
So step away from that monitor and step into character. And don't forget to send us a picture of your video game Halloween costumes so you'll be entered in our annual Halloween Costume Contest!
You're viewing page 1 of 19.

Back to Costume Gallery Main Page