Wednesday Addams and Cousin It Costume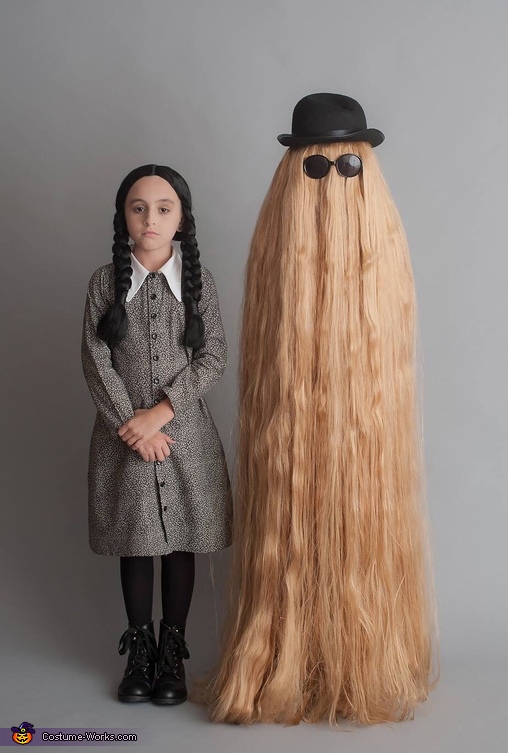 Wednesday Addams and Cousin It
More views:
(click to enlarge)
A word from Melissa, the 'Wednesday Addams and Cousin It' costume creator:
My daughter and I were attending her school's "Mummy and me" halloween dance, and we really wanted to dress in something fun and original. Thanks to an idea from my husband, we decided to go as Wednesday Addams and Cousin It from the Addams family. Both costumes are homemade. Wednesday was made with store bought fabric, black tights, wig purchased on Amazon for $10, and combat boots from Ross for $18. I applied the lightest color foundation I could find to her face and set with pale powder. I then shaded her eyelids and underneath her eye area with a soft brown eyeshadow. We added some pale peach lip color and that was all she needed for her face. We also accessorized with blood red nails and dark earrings. I think she really looked the part. She even practiced her facial expressions in the mirror!
My Cousin It costume was actually very simple to make! I found some "Lady Godiva" 60 inch wigs at a local halloween shop for $13.99 each. They only had 3 of them available, but fortunately I am very petite and 3 was enough! My mom happened to have some nude colored stretchy fabric on hand which we needed to wrap my body. We sewed a basic wrap with holes for my arms which I could use to poke my arms out if needed. The purpose of the wrap was to keep any body parts from sticking out of the hair for a smoother look. We also made a hood to go around my head with the same fabric. Each wig was snipped inside, then stretched around, and hand stitched to the hood of the wrap. We tried as best as possible to sew the wigs so the hair would fall evenly all the way around. I then found a pair of sunglasses at Ross clothing store, and the hat on Amazon. The hardest part was being able to see through the hair and sunglasses, and it does get a little warm under all of that hair! I received many compliments and it was a lot of fun to wear. My daughter and I won the prize for best "Mummy and me"!!