Mama Bird sitting on Egg Costume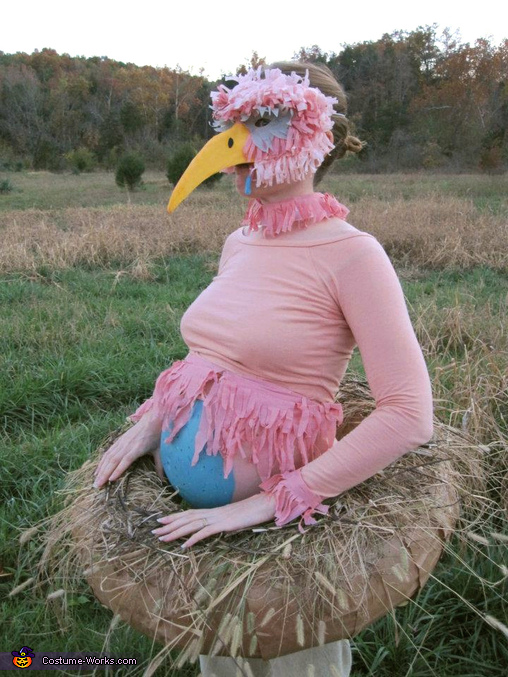 Mama Bird sitting on Egg in a Nest
More views:
(click to enlarge)
A word from Jessica, the 'Mama Bird sitting on Egg' costume creator:
When I found out I was pregnant, the first calculation I made was the due date (oh no! Holidays!) and the second calculation was Halloween (8 mos pregnant!). So I had about 7 months to plan this costume. I did not want to be yet another fish bowl or a "bun in the oven." Everyone went crazy over this costume! Someone even asked me, "oh, are you really pregnant?" as if that might be part of the costume.
I wanted my baby bird to be an egg on my tummy - This was just blue acrylic paint. I made the nest out of an inflated inner-tube wrapped in brown craft paper. Then I sprayed it with adhesive and stuck some wispy grass all over.
Our masks were made from a photo I had in a Martha Stewart mag that uses a Carnival mask wrapped in crepe paper. Daddy bird has a black mask and mine was pink. Other feathers were additional crepe. My tail feathers and arms are my pink bathrobe.
The tree I am sitting in is my green sweat pants :)
I wanted to have little "bird" feet on the edge of the nest made from yellow dish gloves, but I forgot to get them (pregnancy brain).
We handed out gummy worms to everyone we knew!