Toys and Dolls Costumes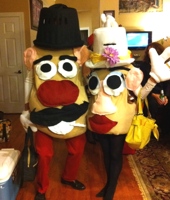 Why not really capture the playful spirit this Halloween by dressing up as your favorite toy or doll? The possibilities are as vast as your imagination! Party-goers and fellow trick-or-treaters will love to take a walk down the street – and memory lane – with your nostalgic toy costume. Just crack open the toy box and take a look at some of the amazing toy and doll costumes from years past.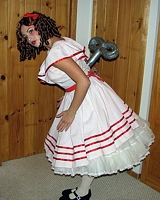 Toy and doll costumes provide the ultimate amount of creative options. You can choose to dress as your favorite toy or doll and then personalize it with your own special touches. Maybe you want to be a wind-up doll or your favorite Barbie? Even just boxing yourself up with your favorite accessories can do the trick. Whether you want to be a sweet pink plaything or an evil doll straight from a horror flick, you can find great ideas that suit your style.

Having a play date this Halloween? Consider sticking together (and sticking out!) by having your group dress up as your favorite Lego characters. The blocky buddies of the Lego brand are enjoyed by kids of all ages and leave a lot of room for creativity. Why just be a pirate when you can be a Lego pirate? You can even wield your favorite plastic swords and dress up as Lego interpretations of your favorite movie and game characters. Lego Star Wars anyone?
Not playing with the entire toy box this year? Maybe your group of two needs a new theme. Create unique couple's costumes by dressing up as your favorite Barbie and Ken dolls, or kick Ken to the curb for Teresa! There's a lot of options to play with, and a few simple accessories can allow you to polish up your costume without draining your wallet. Not a Barbie fan? Maybe Raggedy Ann and Andy would be more your style. For couples and groups, toy and doll costumes keep groups matching while allowing for fun individualism and personal style.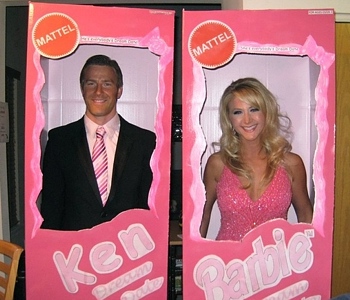 Maybe you'd even prefer to travel the winding paths of your favorite board game. These creative costume ideas include everything from walking Rubik's cubes to Hungry Hungry Hippos. It's much easier than you think to personify board games such as Operation or illuminate the night as a Lite Brite board.
Just like the many toys we all have enjoyed over the years, these costumes are approved for children of all ages. Kids and adults alike can find the perfect toy or doll costume that captures their personality. Even pets can join in, and doll costumes are adorably simple options for baby's first Halloween!
Create playful new memories with your old favorite toys by dressing like one this October, and don't forget to send us a photo of your costume so you'll be entered in our costume contest!
You're viewing page 1 of 21.

Back to Costume Gallery Main Page