Teenage Mutant Ninja Family Costume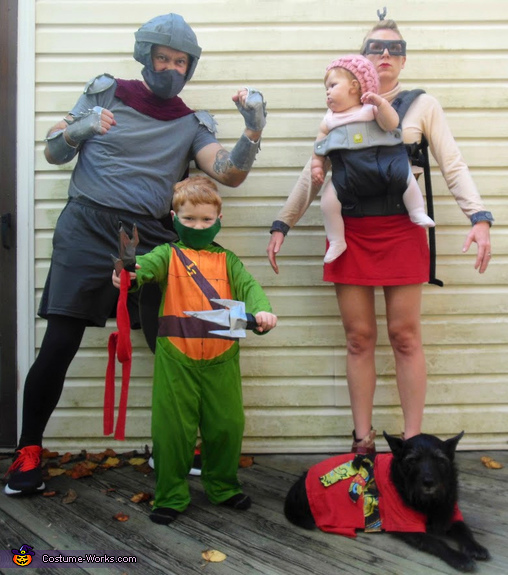 Shredder, Krang, Rapheal, and Master Splinter!
More views:
(click to enlarge)
A word from Jaime, the 'Teenage Mutant Ninja Family' costume creator:
2020 was the perfect year to do a Teenage Mutant Ninja Turtles family costume. My son (dressed as Raphael), is finally old enough to fully appreciate one of my favorite cartoons. I ordered a TMNT suit online for $3 back in August, sewed him a face mask out of old T-shirts, and crafted sais out of cardboard and duct tape. Our dog is dressed as Splinter, and has always looked a little bit like a mutant rat.
I sewed the robe out of a child's t-shirt and old upholstery fabric. My daughter and I joined forces to depict Krang. I already had a red skirt, red shoes, and tan turtleneck. The cuffs, antenna, and glasses are made out of an old pair of gray pants, with help from the sewing machine and hot glue gun. Our baby harness with a printed picture of the bad brain himself completed my Krang robot ensemble. My daughter is wearing a knitted brain hat (instructions to knit this are all over the internet) and a pink onesie. My husband is dressed as the ideal villain for 2020-- the ultimate mask-wearer Shredder. He's wearing gray shorts, a gray t-shirt, and his cape is one of my duster vests. I ordered a few sets of fingerless spiked "dragon gloves" for maybe $4, which I painted and sewed into shoulder pads and armor. I sewed the mask, because we all know how to do that now. The helmet was the hardest part. First, I used a balloon as a mold to create a paper mâché (just flour, water, and old newspapers) dome. Then I covered the paper mâché in glue and fabric. I covered cardboard in the same fabric for the helmet spikes. I painted the helmet gray. I used materials from my craft arsenal or old clothes for almost all of these costumes, so it's hard to gauge material costs. However, I spent less than $20 to create this full family TMNT masterpiece. Cowabunga!