Homemade Costumes for Women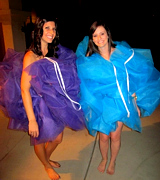 If you're in need of a last minute Halloween costume idea, perhaps some of the outrageously fun homemade Halloween costumes below can give you some inspiration! Women's Halloween costumes are often the most expensive to purchase at popular Halloween stores, and include several accessories and make-up. What if you could lower the Halloween expenses by making your own costume? Most of the costumes below are homemade and totally unique!
Most Halloween costumes are easy to make without spending much money. Whether you're going out with your friends, hosting a Halloween party, or just taking your kids trick-or-treating, there's many cheap creative costume ideas for everyone. There are several easy ways to approach this fun holiday with a unique and original Halloween costume. Whether you want to dress as a favorite celebrity, or just something completely unique, a homemade costume can create the exact look you're going for. All of these vibrant and exciting Woman's costumes you see below are from contest entries from our annual online Halloween costume contest!
You may also like:
You're viewing page 1 of 109.

Back to Costume Gallery Main Page