Kahlo, Dali, Picasso and Van Gogh Paintings Costume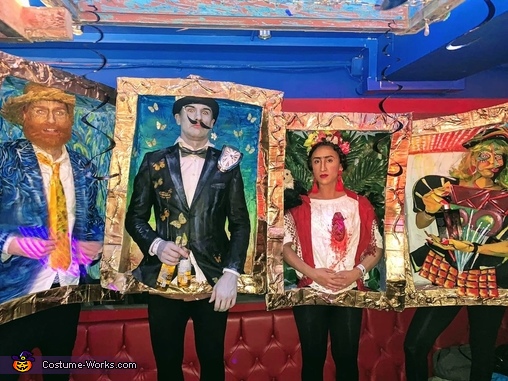 Kahlo, Dali, Picasso and Van Gogh Paintings Costume
More views:
(click to enlarge)
A word from Cecilia, the 'Kahlo, Dali, Picasso and Van Gogh Paintings' costume creator:
Me (Frida Kahlo), my boyfriend (Salvador Dali), my friend (Picasso), her boyfriend (Van Gogh)

We had a halloween party where the theme was 'people/characters who are dead'. We didn't really like that as we usually like to be crazy creative on halloween, and thought this theme was quite limiting. So we decided to meet up for dinner to discuss ideas, and after 3 hours of brainstorming we decided to go as paintings!

The frames are entirely handmade with cardboard boxes, we made holes at the bottom for our legs to go through. We painted the cardboard frame gold, and each background was inspired by the real paintings. We then added all the accessories (monkey, clock, heart, beard, moustache, hats etc)and finished off by painting ourselves and the objects to make everything look more 2D! We all wore black leggings underneath to give a uniform look and make the boxes stand out even more.

We were a massive success, although it was SO difficult not to bump into everything, and we took up pretty much half the venue's space!