Homemade Costumes for Pets

Many families like to include their pets in everything, and Halloween is no exception. Halloween costumes for pets are all the rage for animal lovers. People love dressing their pets up for holidays, particularly their cats and dogs. Depending on the mood of your pets, costumes for pets are an excellent way to include your pets in with your Halloween family fun. Creative costumes for pets can be hilarious and a fun way to include children in helping prepare your pet for its first decked out Halloween!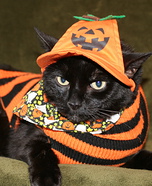 Dressing your pet up with a unique costume choice may be difficult to purchase, so many opt for hand making them, as they are usually pretty easy and cheap to make anyways. Unique Halloween costumes for pets can provide a fun time for your family and friends as you watch your lovable pet parade around in their very own Halloween costume.
Check out the Halloween costumes for pets below! These are all homemade, unique, and contest entries from our pets costume contest.
Check Petside to find even more costumes ideas for cats.
You're viewing page 1 of 69.

Back to Costume Gallery Main Page