Homemade Costumes for Girls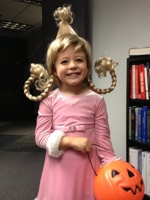 As Halloween approaches each year, dressing up your little girl is always a fun and memorable experience. Look at how these girls stepped out for trick-or-treating this year! Including a whole range of costumes are those super sweet, insanely funny, edgy, and slightly spooky, as these are all homemade and uniquely created.
Girls' costumes often require specific accessories to match their favorite idol, character, villain, etc. Whether you're looking for funny or a cute costume for your little girl, custom homemade costumes provide much more than store-bought ones, as you can see here are some of the most unique costumes.
Homemade costumes such as these provide more of an individual and special touch to Halloween costumes and make the festivities more to look forward to. These creative Halloween costumes for girls below were homemade to include tons of originality and spark sure to impress their friends! Look at all of these awesome and creative costumes for girls from our annual online Halloween costume contest!
More costumes for girls:
You're viewing page 1 of 94.

Back to Costume Gallery Main Page