Celebrity Costume Ideas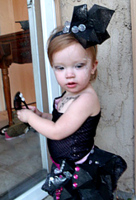 The excitement is building as the celebrities stroll down the Red Carpet. But wait! Is that Britney Spears? And isn't that Justin Bieber? And OMG – there's Lady Gaga!
Of course, those aren't really celebrities, they're ordinary folks, just like you and me, dressed up in celebrity costumes for Halloween. And what an entrance they're making!
If you're hard pressed to come up with a unique idea for your Halloween costume this year all you really need to do is open a magazine or turn on your TV. Better yet, visit some of the online celebrity gossip sites and you'll be bombarded with celebrity costume ideas.
The dilemma in choosing a costume is that you want to shock and surprise people, but you also want them to recognize who you are. It takes all of the fun out of it when people walk up and say, 'Who are you supposed to be?'
Thanks to the online celebrity gossip sites and all those reality TV shows, it's hard to find someone who doesn't recognize today's popular super stars. So you're in luck! Now all you have to do is decide which of these famous freaks you'd like to portray.
And that, of course, depends on your personality. Are you a smoldering siren on the inside? Then how about dressing up like Angelina Jolie? But that's really not much of a challenge, is it? All you need is a sleek black wig and a long black dress. Or is it? Let's as Nick, the man who dressed as Angelina Jolie and Her Kid!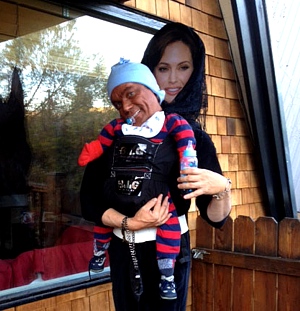 Is your inner child flamboyant and willing to do anything for attention? If so, you may already have everything you need to dress up like Nicki Minaj and Lil Wayne. A hot pink wig, some tights and big fluffy boots and you're on your way to Superstardom.
Do you have Jazz in your heart and booze on your mind? If the thought of attracting the attention of those on the other side doesn't frighten you, then you'd make a fabulous entrance in an Amy Winehouse costume.
Maybe you're a dancer. Can you do the Moonwalk? If so, you won't go wrong dressing up like The King of Pop, Michael Jackson. And since Jackson has been popular for decades you have several different eras to choose from – the Thriller era or his Jackson 5 era. Or why bother choosing at all? Get a group of your friends together and you can all dress like Multi-Staged Michael Jackson.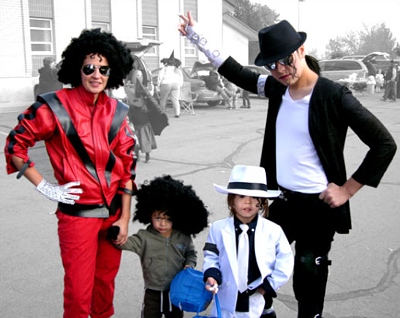 If you can't do the Moonwalk and the Waltz is more your speed, you and your partner could go as contestants on Dancing With The Stars. Visit most any thrift shop and you're sure to find an old ball gown, a dusty tux and some type of trophy. Put on your dancing shoes and you're ready to go.
Finding celebrity costume ideas is the easy part. Just watch TMZ for a few nights or buy an issue of People Magazine and you'll get dozens of ideas. The hard part is deciding which of those silly celebrities you want to be.
Whichever celebrity costume you settle on, be sure to send us pictures so you'll be entered in our Homemade Halloween Costume Contest. We'll share your pics right here on the site and you might just win First Prize!
You're viewing page 1 of 13.

Back to Costume Gallery Main Page