2012 Halloween Costume Contest
Over 2400 contestants were competing in 6 nominations in our 2012 Halloween Costume Contest! 30 winners were awarded with cash prizes: $100, $50, $25 and $10! Visit this page to see this year's contest winners.
Winners were selected by our judges and your votes in the following 6 costume categories:
Most Creative Costume
Coolest Adult Costume
Best Children's Costume
Best Pet Costume

Favorite Halloween Costume
Favorite Pet Costume
This year, additional special prizes were awarded to three contestants for most creative couple, family and group costumes: Lion-o and Cheetara (most creative couple costume) by Robbie and Kristin, The Laundry Crew (most creative family costume) by Brooke and her family, and Candyland Characters (most creative group costume) by Gabbie and her friends.
* * *
Check our 2012 Halloween Costume Contest Winners!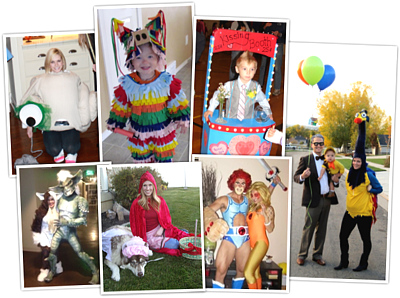 * * *
Our Halloween costume gallery is growing rapidly from year to year, and we're so excited to see your creative costumes featured on our website! Send us photos of your homemade Halloween costume and enter our homemade costume contest this year.

Below are all the wonderful costumes entered 2012 Halloween Costume Contest. Browse and enjoy!
You are viewing costumes 1 to 30 of 2439 contest entries.

Back to Costume Gallery Main Page