Homemade Costumes for Couples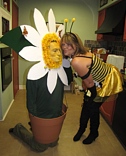 Costumes for couples are a fun way to invite a great time for Halloween! Couples' costumes are often outrageous, funny, and very creative. Just as the costumes you see below, costumes for couples' really have no limits and can be as far out there as you would like. Especially if you have a completely unique costume idea for you and your special someone, the idea you have in mind is often not available in Halloween superstores, so many resort to creating their own original costumes from scratch! Homemade costumes are even popular among couples dressing up as a duo.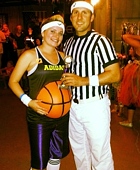 Whether you and your loved one are entering a couples' costume contest or just going out to celebrate Halloween night, costumes for couples are a great way to have an enjoyable time together. Couples' costumes are often a favorite among people every year, as it's super fun to coordinate and especially if you are hand making them! All of the costumes you see below are contest entries from our online Halloween costume contest. These are all homemade and totally creative!
See also:
You're viewing page 1 of 92.

Back to Costume Gallery Main Page