Homemade Costumes for Boys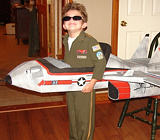 Halloween is the time of year to dress up your little guy to be whatever he wishes! Boys' costumes range from superheroes, TV & movie characters, monsters, vampires, and then the completely random and adorable costumes sure to catch the laughter and excitement from his friends. Just take a look at these boys' costumes below in their fun and unique homemade costumes, ready for trick or treating!
Instead of buying his favorite costume from an overpriced Halloween store, if you're crafty, consider making it yourself. A homemade Halloween costume could be useful for not just Halloween night, but to play in for several months after. Store bought costumes often fall apart and pieces come off, or get lost, but with home made Halloween costumes, you can make sure it is durable to last a long time, and perhaps even another Halloween or dress-up event. These awesome Boys' costumes below were 100% homemade and contest entries in our annual Halloween costume contest.
Other costumes for boys:
You're viewing page 1 of 98.

Back to Costume Gallery Main Page