Halloween Parties
Here's where the fun REALLY begins! Now that we're all in our Halloween Costumes and ready to HAUNT, it's time to wander like spirits do... or to stay home and entertain visiting Goblins and Ghouls or a gent dressed up in a Kangaroo Costume or perhaps a lady Gowned in a Cinderella Costume. If this is a Family oriented or Childrens Halloween Party, there's no knowing what kind of mix of funny or scary young entities will be visiting. If, in fact, we are throwing a Halloween Party, there is MUCH to do in preparation.
Let me say here that MOST of the Halloween Costume Shops are beginning to have full stocks of PARTY SUPPLIES of late so they are a good place to start when looking for money saving (or NOT Ü) party ideas.
(Some of my costume pages also have hints on party supply goods.)
As the Host or Hostess we have several things to think about. SEVERAL! Those of you who are familiar with the Host/Hostess game probably realize that the main thing that will get you through this without having a total nervous breakdown is... ORGANIZATION. SO! To that purpose I have divided the CHORE list a bit. There is a page on Halloween Party Decorations, one on Halloween Recipes (that I haven't had much luck with as only one person has sent me a recipe, and that person was one of my daughters Ü), and one page for Halloween Party Games.
For your BASIC Partyware..I'd like to suggest a company that's been in business a very long time and thus, they KNOW about Party needs. They are Shindigz. You will find some of the party decorations they carry on the "decorations" page and here (just below) I will show you just a little of what they carry in the way of Party "necessities"....such as Disposable Dining Wares, Balloons, and etc.
Here are some of what you can purchase at this online shop:

Plastic Table Settings

Wall and/or Window Hanging Halloween Graphics

Pumpkin and Bats Table Rolls

So be sure to check out Shindigz for all of your basic Party needs. They ALSO carry Personalized Banners so that's something you may want to check on when you get to the store. One thing that I CAN tell you is that you will DEFINATELY need to do this ONE THING to get your party on it's way. That is...to INVITE GUESTS:
Haunted Hill Invitations

The above invitations are found at Shindigz... along with a TON of other things for your Halloween party.
From Fright Catalog we have a nice little Party Kit for Adults: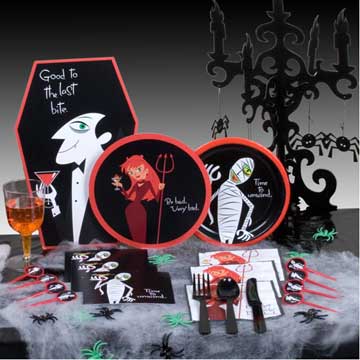 Halloween Party Kit for Adults

I am looking for input in this section so please consider me just an E-Mail away: Coletta [at] Costume-Works.com (please don't forget the dash (-) between "Costume" and "Works". I will put what I have time, energy, and the knowledge to put on those pages but I WOULD love to have some other input. (but I won't harp on it anymore..I promise. Ü)