False Halloween Eyelashes
One day of each year many people prepare to disguise themselves as unique creatures, goddesses, superheroes, and so much more. Often, many Halloween-crazed people will spend weeks, possibly even months preparing for their over-the-top Halloween costume. One fashionable and popular costume necessity are false eyelashes.
Check out our fun collection of colorful, shiny and spooky false eyelashes featured below. These amazing eyelashes are great for nearly any costume you wear to parties, your work, anime conventions or trick-or-treating.
Spiderweb False Eyelashes
Wild Exotic Eyes False Eyelash Kits
Glow in the Dark False Eyelashes
Feather False Eyelashes
Jewelry Studded False Eyelashes
Glamour False Eyelashes
False Synthetic Eyelashes
False eyelashes can come in all different sizes and shapes, and can be made of several different materials to achieve unique looks that match a particular costumes' personality. Those who have never applied fake eyelashes before might wonder how to apply them, which type to choose, and where to get them.
False lashes can be the perfect addition to any outrageous or even simple Halloween costume. It adds intensity to the entire look, and it's definitely an easy way to achieve unique personality to a costume. A look can easily transformed by using fake lashes. Go from bland and boring to bold and spectacular.
What type of false eyelashes are the best?
And where can they be found?
There are various types of false eyelashes. You'll want to choose the type of eyelashes that add the wanted effect to your particular eyelash shape and structure. For those with long eyelashes that are few, thin and sparse false eyelashes are best. There are actually even false eyelashes that are made from real hair, and these lashes best complement those with more ordinary costumes, rather than outrageous because they give off a very "natural" look and they even grow.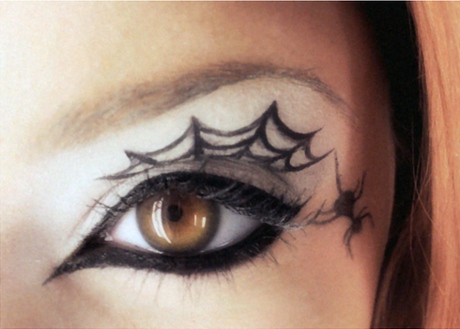 Cool Spider Web Eyeliner
Via Mia//Makeup
For those with light eyelash hair, brown colored long and natural eyelashes would be best for them. Adding a bit of mascara on top of the false eyelashes can create a more dramatic, dreamy effect. For women seeking a sexy, sleek costume appearance, half full false lashes may be best, as they look very settle and attractive. Again, applying mascara on top of the lashes can make the look more dramatic.
Spider Web Liner & Purple Lips Make-up
Via Celebrity Sun.Star
Costumes that depict doll-like appearances may be in need of extreme drama for their lashes, as eyelashes are a priority ingredient for anyone wanting to look like a realistic doll. Popular eyelashes to achieve this look typically come from Asia, where false, dramatic lashes are in high demand. "Harajuku Doll" style lashes can be ordered online or can be found in an Asian beauty supply store.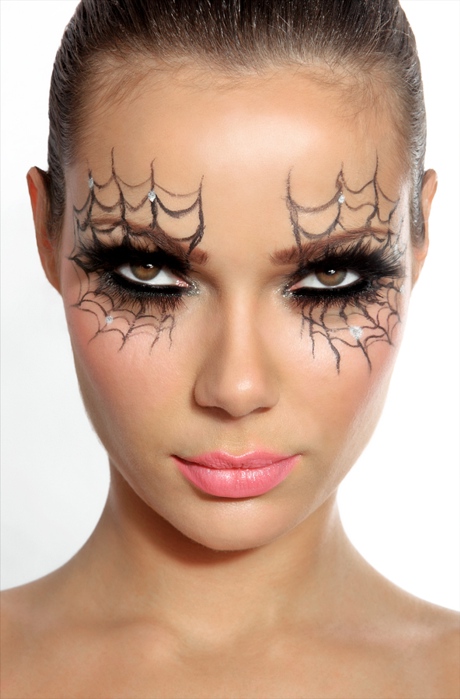 Spider Web Halloween Make-up
Via ModelMayhem.com
Halloween costumes that are sweet and cute, such as a Fairy Halloween Costumes, may include light pastel colors such as pink and purple. This type of costume would need a droopier, sultry eye that can create the dreamy effect a fairy costume would need. Costumes, such as Kitten Halloween Costumes, however need an eye look that is beyond dramatic, to achieve a "kitten doll" look. Cat eyes are needed for the kitty look, along with lots of dark eyeliner and additional coats of mascara on top of the complimentary eyelashes.
Gothic Halloween Makeup
Via https://www.monroemisfitmakeup.com
Some more options for false eyelashes include colored eyelashes. Colored eyelashes, such as pink, purple, blue, and green are a great addition for really outrageous costumes such as animals, cartoon characters, and objects. Feathered false eyelashes are even an option for those looking for a crazy and wild effect for their eyelashes.
Gorgeous Feather Eyelashes by Shu Uemura
Via Padmita's Make Up Blog
How are false eyelashes applied?
To apply false lashes correctly, first decide the length of the eyelashes you will need. You may need to trim the lashes if you need shorter lashes. Make sure the eyelids have no makeup on them yet, and then use an eyelash curler to prep the eyelashes. If applying a full set, apply a thin coat of glue along the base of the eyelashes using a toothpick or similar item. Finally, wait for the glue to dry. It's easier to apply a full set of fake lashes rather than individual lashes, but neither is too difficult. The process of applying fake eyelashes may take around 10 minutes.
How to Apply False Lashes Video
Spider Queen - Webbed Eyes Makeup Tutorial
False eyelashes can be a great eye-enhancing addition for all kinds of Halloween costumes, such as dolls, zombies, characters, object, fantasy characters, and much more. Most false eyelashes can be found in Halloween super stores, drugstores, beauty supply stores, and of course online. False eyelashes are very easy to apply and create a much more realistic Halloween costume appearance for both parties and memory filled photographs.

Back to Costume Ideas & Articles