2011 Halloween Costume
Contest Winners!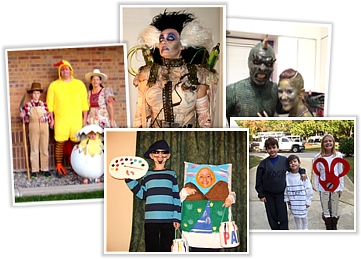 Thanks to everyone who joined our Halloween costume contest this year! We hope you're enjoying all the 2011 contest entries as much as we do!!
This year we had 5 nominations in our contest, so this page will be long:
Most Creative Costume
While choosing winners of the contest, we realized that we have no appropriate nomination for costume themes! We have 3 contestants with very original and creative costume themes, who we'd like to award in the Most Creative Costume nomination:
Coolest Adult Costume
Best Children's Costume
Best Pet Costume
Favorite Halloween Costume
Winners in this nomination were determined by your votes - either on our website by voting & commenting, or in form of facebook "likes" and number of visitors to your costume page!
We tried to make this competition fair and give everyone equal chance to win, that's why we created this complicated voting process with "stars", "likes", comments and number of visitors from other websites. Formula of our "score" may look questionable to many of you, but this is not a measure of creativity or designing skills... We treat these numbers as amount of love and support you received from your friends and family, for whom your costume is truly Favorite!
The winners of the competition are:
1st Place
Brave William with his cool tank, created by dad Timothy.
Prize = $100
2nd Place
Cute little Ally in the Tinkerbell costume created by mom Katie.
Prize = $50
3rd Place
David in his amazing transforming Optimus Prime costume.
Prize = $25
4th Place
Beautiful little Baylee Rose as a Flower Fairy.
Prize = $10
5th Place
A group of pretty 'Loofah Girls' who charmed Las Vegas by their original costumes.
Prize = $10
6th Place
5 year old James as Indiana Jones Jr. in the costume created by mom Tina.
Prize = $10
7th Place
Maria in her awesome homemade 'Animal' costume.
Prize = $10
8th Place
Beautiful Sahra in her handmade Black Swan costume.
Prize = $10
9th Place
Dana in her very original Frankenberry costume.
Prize = $10
10th Place
Desiree, Tyler, Luna and Trent in the creative 'Horror Movies theme' costumes, created by Crystal.
Prize = $10
Congratulations to the Winners!!!
* * * * *
Thanks to all the contestants - you are all awesome!


View all the costumes from our
2011 Halloween Costume Contest