Indiana Jones Costume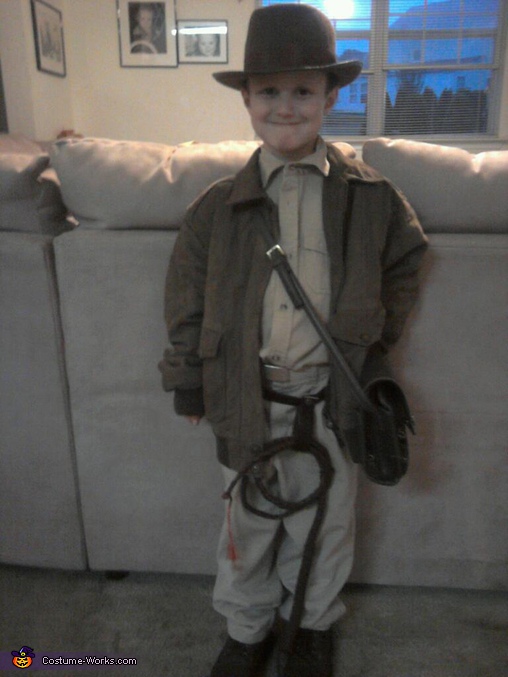 Indiana Jones Costume
More views:
(click to enlarge)
A word from Tina, the 'Indiana Jones Jr' costume creator:
My 5 year old son James as Indiana Jones Jr.
After seeing all the expensive cheaply made store bought Indiana Jones costumes, I decided to make one myself for my 5 year old son James. First I found a good picture of Indiana Jones and I tried to make as realistic as possible. The whip and the fedora I purchased at a local costume shop and all the other items came from Goodwill thrift store.
Brown Leather Jacket - $4.25
Long sleeved Safari Shirt - $2.50
Tan Pants - 50 cents
Brown Boots - $1.99
Fedora - $6.00
Whip - $3.00
Satchel - $1.00
Mens Brown Leather belt 25 cents.
(I cut this belt to size and used the scrap to make the whip holder and attached with snap. This belt does not hold up the pants and should hang a little loose below waist.)
Mens Khaki military style belt 25 cents.
(Cut this belt to size and this belt is to hold up pants)
Im Very Happy how the Indiana Jones costume turned and so is my 5 year old and all for under $20.00, one third of the cost of the store bought and 100% better!