Mr. Cupcake & Cook Chef Costume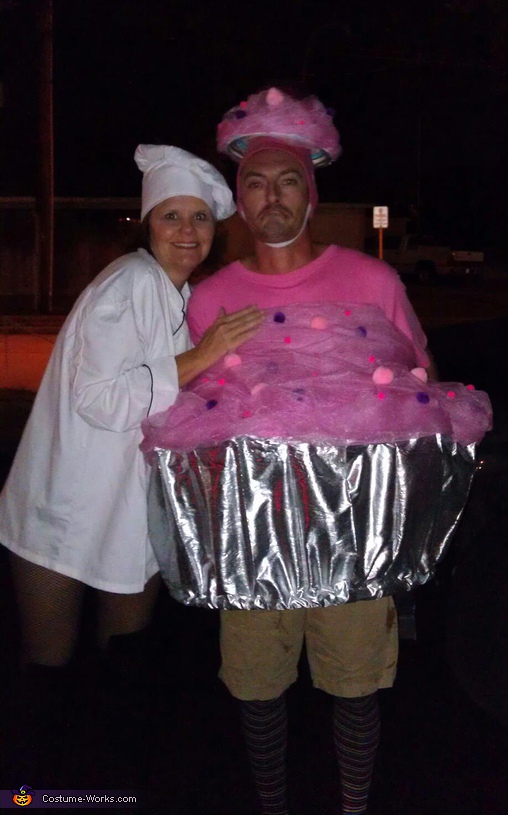 Mr. Cupcake & Cook Chef Costume
More views:
(click to enlarge)
Cheri sent us these great photos of her husband wearing Mr. Cupcake costume & herself as a Cook Chef. Check out this couple's another amazing costume from last year Halloween - Daisy & Bee!
A word from Cheri, the 'Mr. Cupcake & Cook Chef' costume creator:
My husband is wearing this costume.
Women's pink oversized t-shirt 2 plumbing pvc shaped in to a smaller and larger ring
silver fabric
hot glue
sewing machine
20 yards of pink tulle
craft puff balls
fabric wire
tapestry needle
heavy thread
stocking cap
paper plate
Styrofoam ball
red glitter
brown pipe cleaner
I hot glued the bottom of the t-shirt to the larger pvc.
I starched and ironed the fabric in to a zig zag shape and fed a wire through a small tube i had sew along top of the fabric. I then shaped the zig zag in the fabric by bending the wire. On each inward zig zag i used string and a tapestry needle to attached it my top pvc. I sewed a small piece at the bottle of my fabric in order to feed the smaller pvc through it. This created a nice base for the frosting and my cup part of my cupcake. The top is 20 yards of tulle wrapped around the t-shirt to make a cupcake top. The hat is a paper plate with tulle wrapped around in a circle topped with a cherry. The cherry was made from a round Styrofoam ball, painted red, glittered, and a brown pip cleaner for the stem. i sprayed two coats of clear coat over the top so that the glitter wouldn't come off every where. I glued the plate on top of a pink stocking cap.