Haunted Tree Costume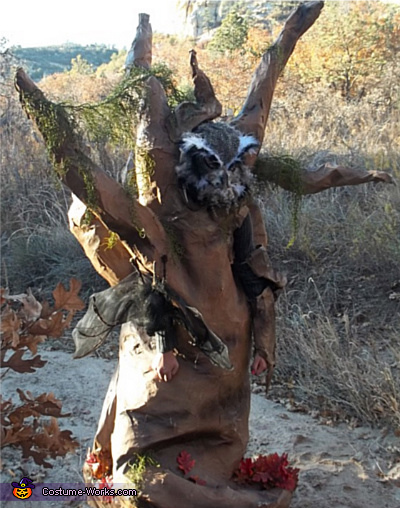 A Tree or a Costume?
More views:
(click to enlarge)
A word from Cassie, the 'Haunted Tree' costume creator:
Who's in that Tree?
Our teen daughter, that's who! This year our 13 year old went as a Haunted Tree with an Owl perched in her branches. Many hours were spent building her life-sized paper mache tree. Her owl head was made from an old knit hat, plastic masquerade mask, sheet foam and lots of feathers. She climbed into the tree from the back at the bottom. We hid the wheeled frame with paper mache tree roots (had to be on wheels due to all the layers of paper mache, making it heavier that expected). She freaked a few people out at her brother's school carnival by standing near the door and sneaking up behind them. She even had one onlooker poke her in the eye to see if she was real or a decoration, which left her pretty unimpressed.
To see her costume better, check out her YouTube video: