DIY Haunted House Costume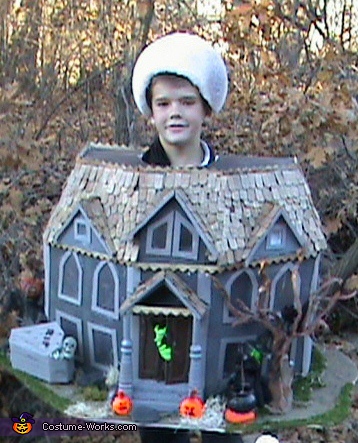 A Haunting he did Go
More views:
(click to enlarge)
A word from Cassie, the 'Haunted House' costume creator:
A Haunted House That's Really Haunted
Our 8 year old haunted this house equipped with strobe; black and other battery operated lights. It glowed with a lit moon hat above made from a carved out Styrofoam ball that we texture painted. A Wicked tree, various clay-made creatures, and "stained" glass windows haunted in a dry ice mist. We started the costume with a lightweight plywood base and then added 1 inch mattress foam for walls and display board for the roof. We then added dollhouse shingles that we stained along with wood trim pieces to deck out the porch. Creatures where made from clay to haunt the house. Spiders and glow in the dark skeletons were hung to peer out windows. We used sippy cups filled with dry ice and water to create a spooky mist at the house entrance. We had to bring along a wagon stocked with a cooler filled with the dry ice and a jug of water to continue the spooky mist for his and his brother's costumes. He even carried the sounds of a haunted house with him through his IPod and speakers. He haunted the streets with his brother, The Haunted Graveyard, sister The Haunted Tree and his baby brother as a Haunted Mummy.

Video: