Zombie Dark Helmet and Princess Vespa Costume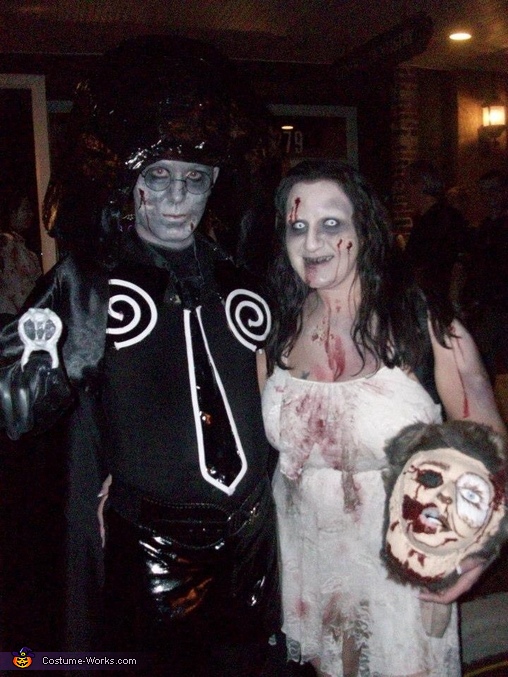 Zombie Dark Helmet and Princess Vespa
More views:
(click to enlarge)
A word from Valerie, the 'Zombie Dark Helmet and Princess Vespa' costume creator:
This is a costume I made for my husband and I 2 years ago for Halloween. They are characters from the movie Spaceballs, only zombified.

This is one of the funniest costumes I ever created for him, because the helmet was enormous!!!
It was constructed from a plastic costume hardhat as a base, with foam duct taped over it. Them it was paper mached, mod podge and finally painted black. It was pretty heavy even though there was foam inside, but my husband did a good job wearing it all night.
I also made his cape, black vinyl tie and shorts and the swirl chest plate. I sculpted and painted the "Schwartz" ring as well as his zombie makeup.

Since I wanted his costume to really stand out, I went a little simpler with my costume, making a simple dress out of an old lace dress I made years ago. I used the aggression method on the dress, burying it in the backyard and setting it on fire, then smearing it with red and brown paint.
I did my own makeup. I made a decapitated head of another character from the movie, Barf. I found a plain white face mask and duct taped it stuffed with paper to make it bigger. Then used brown fun fur on the outside and made ears, then zombified it with acrlic paint. I made fake teeth out of acrylic fingernail tips on his mouth. He was a fun accessory to hold!!!

I domt feel it's necessary to spend a lot of money, so I shop at thrift stores and make a lot of stuff. Basically for supplies I spent about $40 on fabric and paint.