Roadkill Zombie Dog Costume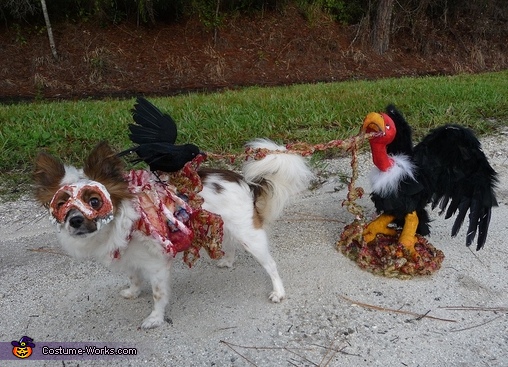 Roadkill Zombie Dog full costume seen from left side
More views:
(click to enlarge)
A word from Jean, the 'Roadkill Zombie Dog' costume creator:
My 12lb female papillon named "Cricket", became roadkill. She had been half eaten, and her ribs stripped of flesh, when she became a Zombie. The crow held fast and began a tug-o-war contest with her intestines and the vulture who is being reluctantly dragged along. She now searches for unwary stray cats! Beware.....
I attached white felt (with hot glue)over a dog harness, pre-set to fit my dog. I made the ribs with coat hangers wrapped with plaster cast strips and attached them at the top. Then I built up organs (with lightweight paper, and coated with liquid latex) to represent the lungs, stomach and heart (that houses a blinking light to make it beat). Intestines were made from small bubble wrap made into strips, tied with thread and coated in liquid latex.Painted with a brown tinge of food color after it dried. The vulture is made of styrofoam shapes, plaster wrappings on the head and legs (painted with acrylic paints), and coat hanger wings and individual feathers attached with a glue gun. The dripping blood is dried gluegun droplets, painted with red car model paint. Some colors on the organs were mixed into the liquid latex before it dried. I attached pieces of rabbit pelt to represent her skin being torn open, and added more red model paint for blood. The only item not made by me is the crow. The skull mask was cut from paper for a template, then formed from cardboard and coated with plaster cast strips. After drying, I glue on an elastic band to hold it in place while she wears it. Latex was applied and painted in splotches to represent some flesh still being on the skull. Two wires of fishing line will be attached from either side of the harness, down to the vultures feet in order to keep it from tipping forward as it refuses to relinquish the tasty meal. My ideas are generated after comming up with a theme for that specific holiday, and them researching photos and compiling all my thoughts. I then do rough sketches and colaborate with my son on his thoughts to improve my ideas. My papillon is always willing to sit still and let Mom do whatever she wants as long as she gets to go for a ride and meet all the other dogs entering the contests.