Phoenix and Gryphon in Candyland Costume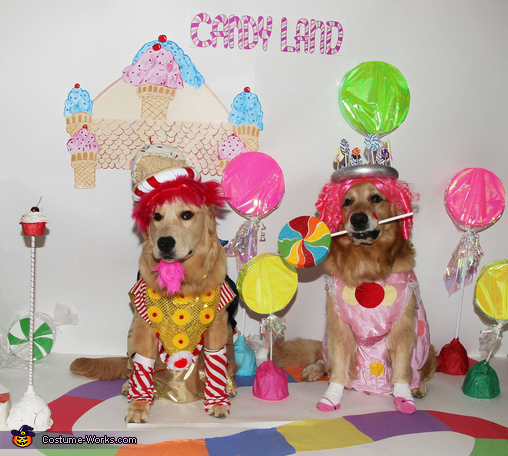 Gryphon as King Kandy and Phoenix as Princess Lolly in Candyland
A word from Bonnie and Beth, the 'Phoenix and Gryphon in Candyland' costume creators:
The game of Candyland has come to life. Gryphon is King Kandy, standing in front of his special Candy Castle. Phoenix is Princess Lolly, living happily in the Lollipop Woods. The pair are standing on the Candyland gameboard, all ready for the game to begin!
Both costumes were completely hand-made. Gryphon's king costume is a tunic made of gold sequined material and gold lamé, with red and white striped sleeves. We added felt circles with pom poms to look the linzer torte cookies on the king's outfit. The candy cane belt is made from giant red and white chenille stems twisted together with a red pom pom buckle. The headpiece is a knitted cupcake attached to a white styrofoam ring that has paint and duct tape stripes to form a peppermint. We finished his costume off with a candy pink wig, pink beard, and red and white striped stockings. He also has a cupcake scepter attached to a dowel with a base we made from model magic.
Phoenix's princess costume is made of pink satin trimmed with silver lace, with handmade appliqued lollipops sewn on. The headpiece is a crown of clay lollipops with a styrofoam base painted silver. The lollipops were pushed into the styrofoam in an even pattern and glued in. This costume was finished with a wig with pink ringlets, pink shoe socks, pink felt cheeks, and a large foam lollipop that Phoenix is holding.
We made the lollipops for the background out of posterboard covered with iridescent cellophane glued onto dowels. The castle and Candyland sign in the background were painted and the candy path was made from construction paper.