How To Train Your Dragon Family Costume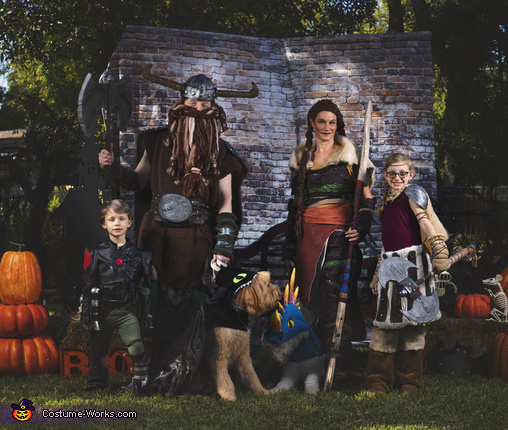 The whole family!
More views:
(click to enlarge)
A word from Sharron, the 'How To Train Your Dragon Family' costume creator:
My family watched "How To Train Your Dragon" early this summer. At the time, we noticed how much my daughter resembled Astrid, and we started toying with the idea of using this movie as a step-stone for our Halloween costumes. My concern was the lack of an adult female role. Then we saw the second "How To Train Your Dragon", in which Hiccup's mother appears. Yeah! This became a viable option for us! While we did brainstorm other costumes, this is the one that stuck. My kids were inspired by being cool Vikings and turning the dogs into their dragons. I was inspired by the detail in the costumes, and the different types of items to create. I had never made armor or weapons before, and my creative mind was piqued.

I started with a variety of images of each character and wrote a list of the costuming elements for each one. For example, Astrid has a fur skirt with approximately 10 "leather" strips that run vertically around the skirt. Each strip has a skull on the top and 5 spikes spaced down the strip. She wears navy leggings, brown knee pads, brown boots, lighter brown calf-guards, brown arm gauntlets, a maroon sleeveless shirt, a brown cape and light tan hood which are attached to each other with skulls and a ring, has articulated metal shoulder armor, wears leather straps around her biceps, and has an elaborate side braid with a brown band along the bottom. I brought these lists and images shopping on all shopping trips.

Our first shopping stop was the Goodwill. My daughter and I hit the jackpot there, finding a fur pillow, several shirts, a dress, leggings, a leather handbag, and a fur-lined suede coat. I repurposed the majority of these items. One of my favorite repurposed items was the fur pillow. I removed the pillow form, ripped out the zipper and opened the end opposite to the zipper. After folding over one of the ends into a casing for elastic, I had the base of Astrid's skirt! Another great find was the fur and suede jacket. The sleeves of that jacket were used to create Astrid's arm gauntlets and her calf guards. The neckline and back of the jacket were used to create Astrid's cape. These are just a few examples of repurposed fun!

Other useful discoveries include Crayola Model Magic and EVA foam. I used Model Magic product to create the various spikes on all of the costumes, the skulls on Astrid, and all of the rivets. We used thick EVA foam to mold the helmets, create all of the weaponry, form Stormfly's spikes, and for parts of Hiccup's false foot. I used thin EVA foam for shoulder armor, Stoick the Vast's belt buckle, and various small accessories.

Whatever fabrics I could not repurpose from the Goodwill came from fabric stores. Once I had enough materials to start, I sketched the different pieces on a roll of paper to create patterns and constructed the costumes once each piece seemed approximately right. I had to brainstorm and sleep on several pieces in order to figure out how to make them work. One example of this is Hiccup's false leg. I finally realized that I could have him wear a black sock on that side and a black canvas sneaker. Then I could create the wooden and "metal" parts with EVA foam. I originally used velcro to put the metal piece around my son's black sneaker, but the velcro did not hold tight enough. Hot glue was the answer!

The most time-consuming piece was probably Valka's pants. I wore some old canvas pants that fit a bit loosely and wrapped them from the knee down with batting to make them thicker. I then wrapped strips of fabric around the pants from ankle to waist to mimic what Valka wears. Each strip was attached with hot glue. This was particularly tricky, as I needed to actually wear the pants while the strips were applied! Once all of the strips were applied, I covered it all with Fabric Mod Podge, to give it a bit of shine and to help secure everything. The boot covers were attached to the bottom of these pants, which were comprised of thin EVA foam covered with black fabric, layered with a few more fabric strips. There was elastic around the bottom to hold it to my shoes.

Another interesting challenge for our family was all of the hair! Whereas my daughter already has long blond hair, she was the only one of us with the "right" hair for our characters. Hiccup has brunette hair that has a couple of small braids on one side, so my son stopped getting his hair cut this summer as soon as we decided upon or costume theme. It needed to grow! Additionally, he is naturally blond, so I acquired some brown hair mousse to turn him into a brunette. He thought this was really fun! Neither my husband nor I have long hair, so we needed special help as well. I found some perfect yarn for Stoick's beard and hair and set to work creating a man-bun and gigantic beard/ mustache for my husband. Creating the wig for Valka was challenging in that there are not many good images of her hair online Once I found a few to use as a guideline, I could create a brown/auburn wig with her 3 separate elaborate braids.

Creating costumes for the dogs was another challenge altogether! Whereas the personality of our white dog seems more in line with Toothless, his coloring made him a better Stormfly, so that is who he became. Our dogs do not normally wear clothes and are not used to having anything on their bodies, so I needed to make sure the costumes were very light and as comfortable as possible. I measured the dogs and designed "jackets" that attached around their necks and bellies, and lay over their backs to their tails. The body of Toothless' costume is made from a repurposed little girl's black velour dress from Goodwill. His tail is made of a leg of a pair of black velour leggings. The body of Stormfly's costume is made from a repurposed teal t-shirt from Goodwill, which was lined with canvas painters drop cloth. His wings and tail are made from fabric purchased at a store, and the wings contain flower wire to help keep the wing shape. The wings on both dragon costumes are attached with Velcro, to make dressing a bit easier - one piece at a time! Our dogs did not mind wearing the costumes, and they certainly attracted attention! They thrive on attention, so it turned out well for them!

We received fantastic responses from people who saw our costumes. My husband took it upon himself to wear his beard and helmet and carry his axe at a dinner party we hosted in late September. Our friends were astounded! They could not believe that the helmet was made from foam, not metal! It was so light-weight! And realistic! And the beard was so similar to the one in the movie! Their reactions gave me encouragement and the confidence that I was on the right track.

When all of the costumes were complete, our family attended a few Halloween celebrations. Children and adults ran to us to take their photos. If they had seen the movies, they knew exactly who we were. The children especially loved our dogs, Toothless and Stormfly. I can't count the number of adults and children who stopped us for photos while we wore these costumes. Our daughter said she felt like she was famous! Additionally, we passed several friends who did not recognize my husband nor I. We simply did not look like ourselves anymore! This was a very fun Halloween for our family. A little part of us will be the "How To Train Your Dragon" characters forever!