How to Train Your Dragon: Hiccup, Astrid, and Toothless Group Costume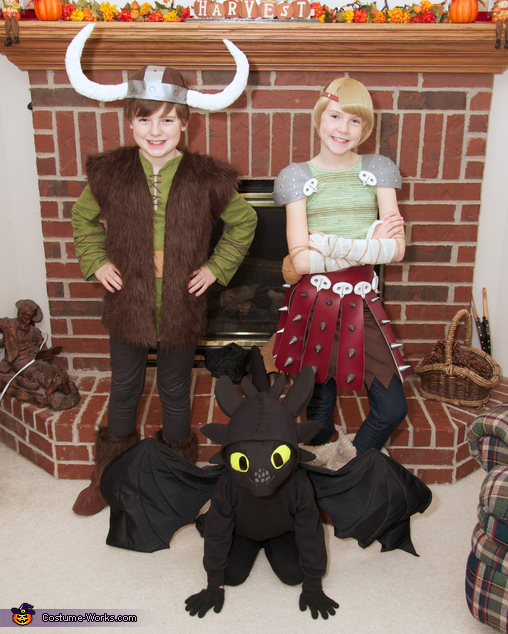 Hiccup, Astrid, and Toothless from How to Train Your Dragon
More views:
(click to enlarge)
A word from Lauren, the 'How to Train Your Dragon' costume creator:
This year I made costumes for my kids from the movie "How to Train Your Dragon". My kids got to see the second movie in theaters recently, and my youngest was really excited about the possibility of being the dragon "Toothless". I decided to make them costumes from the first movie.

My oldest son was the character Hiccup, the scrawny son of a Viking ruler who doesn't quite fit in with his fellow Vikings. His costume was the easiest of the 3, as it was mostly just sewing a tunic and vest and some boot covers, and then adding in a few details (like suede lace around the sleeves and eyelets at the neck for lacing up the shirt). I did make him a pretty cool Viking Helmet by covering a cheap play-police helmet with cloth and duct tape, and making horns from padding wrapped in duct tape and covered with a stretchy material.

My daughter went as Astrid, a fierce Viking girl who doesn't put up with any nonsense. Her costume was very time-consuming to make, but it had lots of details that we wanted to get just right! I made spikes and bird skulls from Crayola Model Magic, then sewed and glued them onto her skirt, made from a maroon leather-looking vinyl material. I also mead her brown underskirt and boot covers. Her shirt started as a cream-colored striped adult-sized tank top, which I cut to fit her and dyed green. I made the shoulder armor out of strips of gray craft foam, which I painted bumps on with silver puffy paint and shaped by heating slightly with a hair dryer. We bought some cheap blond bangs and I made a leather headband out of a strip of leather to which I glued silver circles. I also made arm wraps out of material, elastic, and suede lace.

My youngest son was Toothless the dragon. He is a Night Fury, but he gets injured in the first movie and cannot fly until Hiccup makes him a prosthetic tail fin. I started with a black hoodie and sweatpants, and I sewed the head appendages onto the hood. I made Toothless' face from a piece of foam, which I shaped to look like Toothless and covered with black fabric, cutting holes for the eyes and using yellow-green plastic (cut from a folder) behind the fabric for the eyes. Toothless' head formed a sort of hat that we put under my son's hood. For the wings, I used hangers for the shape (one for each wing), and covered it in black fabric, with felt on the inside to make it stiffer, and sewing lines down to each point. I attached them to black suspenders, which formed loops to go around the shoulders. Toothless' tail was made from a pool noodle which I covered with black fabric and added the tail flaps and spikes to. One tail flap is brown, because it is the one Hiccup made him after he discovered it was missing. I attached the tail to the wings so the whole thing could be easily removed if needed.

It was a lot of work, but I was very pleased with how they turned out!