Seahorse Costume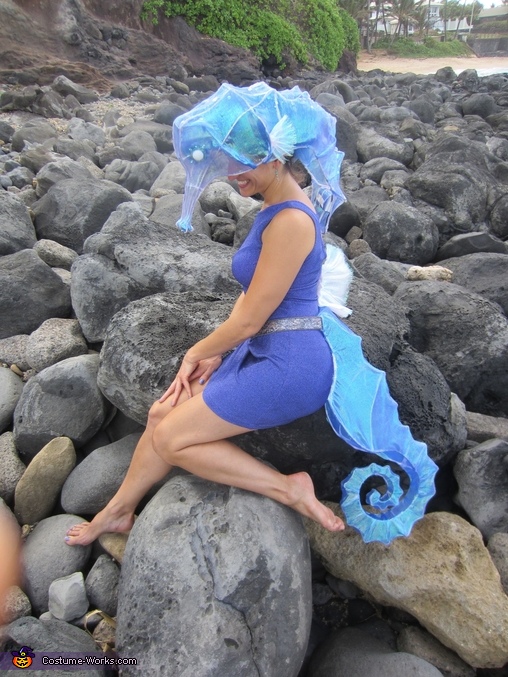 The seahorse perched in its natural environs, the beach
More views:
(click to enlarge)
A word from D, the 'Ethereal Seahorse' costume creator:
I was inspired to create this costume way back in March, when for my most recent birthday I decided I wanted nothing more than to go to an aquarium with my sister. When I came upon the seahorse tank I was overcome by a long since forgotten childhood fascination with these ethereal creatures. I decided right in front of the tank that I would create a sculptural ode to their arabesque architecture, their biological beauty, these creative creatures. What better way to do it than transform myself for Halloween!
I used 100% raw imagination to make this costume. This original and anatomically accurate design is constructed from things from hardware stores and embellished with fabric and sequins. I used solid copper-core insulated wire, electrical tape, a glue gun, fabric, sequins, battery powered LED lights, and buttons. I used a Christmas ornament in the shape of a seahorse for an "earring" to serve as a baby seahorse. The dress, shoes, and belt were purchased from a local thrift store.
People's reactions to this costume were incredible. I believe I am in more photos wearing that costume taken by people I didn't know than I have posed for in my entire life. Everywhere I looked people were smiling and pointing at me and saying things like, "That is the coolest costume I have EVER seen", "WHAT is that made out of?", "Where did you get that!?", "If there was a contest tonight you would win first place hands down!". When people heard that I created it by hand they all told me I should sell it, market it, approach the aquarium, and show up at kids' parties. I did win third place at a local contest I attended, and would have entered more had they not been all on the same night all over town!
Some people kissed the costume, others asked to touch, and one woman just stood in front of me and stared in awe, speechless, and then bowed! The fun I had making it more than tripled in the wearing it and seeing people's reactions. I was glad to spread the awe that seahorses inspired in me.