Seahorse Siren Costume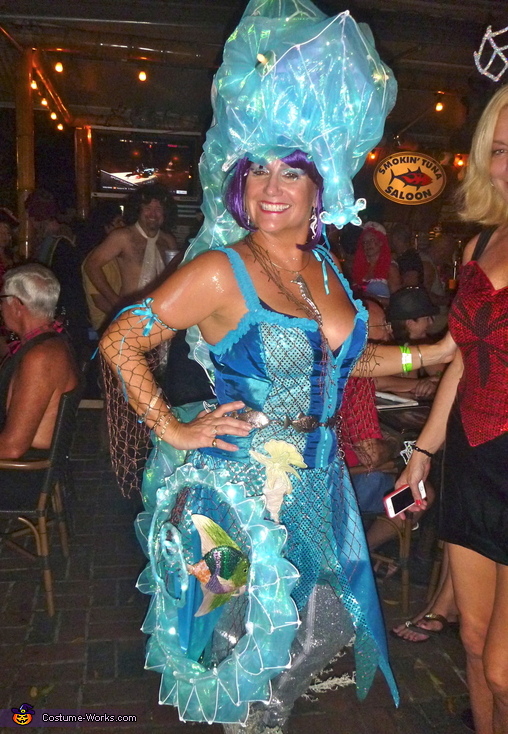 Seahorse Siren
More views:
(click to enlarge)
A word from Pam, the 'Seahorse Siren' costume creator:
This is me....Pam! I live in the Florida Keys and I made this for the 2014 Fantasy Fest Event in Key West. Since I am surrounded by water my inspiration comes from our beautiful Ocean! Seahorses and Mermaids(Sirens) have always intrigued me so this costume was my vision.( I also want to give credit to another contestant who entered last year as a seahorse, she gave me the idea for the wire structure.)
The wire structure was the most time consuming part of this costume. It consists of steel wire, twisted and formed as an outline of a seahorse. (about the same dimension of what you see in wire hangers. I didn't like the dark steel color so I painted it with white spray paint. At each connection I used hot glue. (so between the hot glue burns and aching fingers from twisting the wire my hands were a mess!)
Next I put 4 sets of White LED battery-powered lights up inside the frame. I secured them with small clear zip-ties. The eyes were battery-powered flameless candles.
Next I balled-up light blue tissue paper to stuff the body of the seahorse. Then I wrapped the outside of the seahorse frame with iridescent sheer organza fabric. Attaching it with hot glue and fishing line. I attached fishing line to the lower part of the curled tail so it could be curled-up and uncurled with just a tug of the fishing line.
My Mermaid dress consisted of a teal corset covered with fishnet with wide strips of different fabrics attached to bottom edge i.e.: foil scale print, fishnet, iridescent fabric. I also had fishnet arm-bands.
My platform boots had Coral sea fans going up the sides (Not REAL Coral sea fans).