2013 Halloween Costume
Contest Winners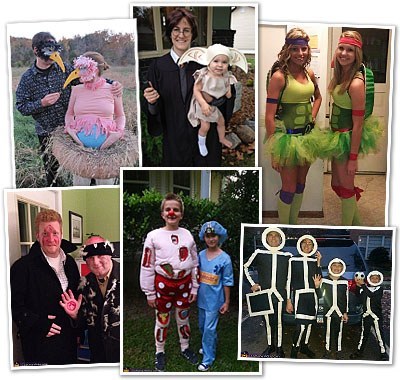 Thanks to everyone who entered our 2013 Halloween costume contest!.
This year's contest categories were:
Unlike the previous two years, during the 2013 costume contest we didn't calculate the costume "score", and the winners in all 8 nominations this year were selected by us - the Costume-Works.com Team.
The 2013 Contest Winners are:

Most Creative Costume
Coolest Adult Costume
Best Couple Costume
Best Family Costume
Best Group Costume
Cutest Baby Costume
1st Place = $100

Cutest Little Cupcake girl, costume created by mom Rachel

2nd Place = $50

2 year old Sam in his fabulous Centaur costume created by mom Kelly

3rd Place = $25

Adorable Millie in her Octopus costume created by mom and grandmother
Best Children's Costume
Best Pet Costume
Congratulations to the Winners!!!
Winners will receive a message with further instructions
via email within 1-2 days.
If, for any reason, you did not receive an email from us -
please check the 'SPAM' folder of your mailbox,
OR contact us using this form
*** please include your Full Name, your PayPal address,
and your Contact Email address
(the one that you used to enter the contest) ***
* * * * *
Thanks to all the contestants - you are all awesome!
We hope to see you again in our contest next year!

View all the costumes
from 2013 Halloween Costume Contest at Costume-Works.com