Diver from the Deep Sea Costume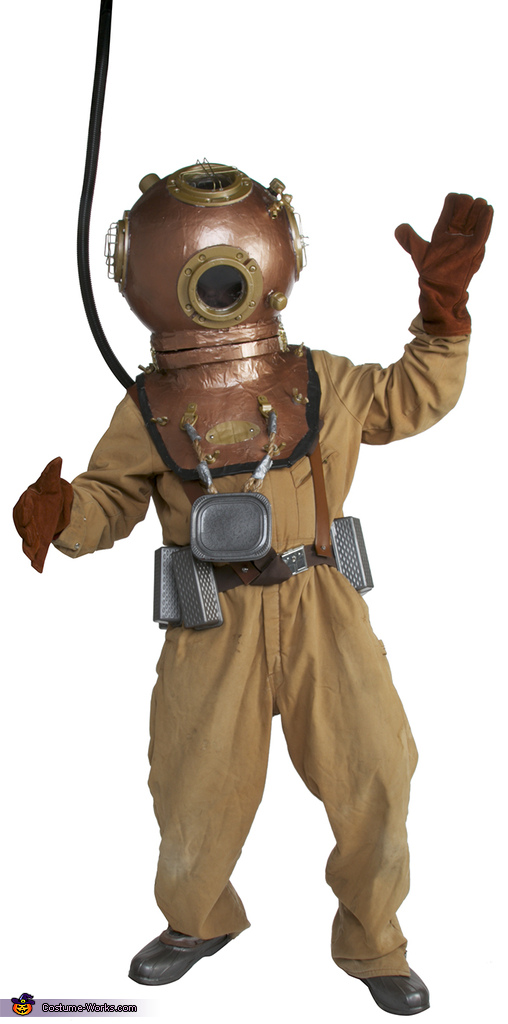 Ready for action!
More views:
(click to enlarge)
A word from Aaron, the 'Diver from the Deep Sea' costume creator:
This year I decided to create a vintage deep sea diver costume. I have wanted to create this for many a year and finally decided to go for it! My goal is to keep the cost low ($50 and under) or close. Use everyday parts and recyled items such as thrift store clothing. This costume took about 2.5 weeks to complete. The helmet and chest piece taking most of the time. The suit is an old Carhart suit bought online used. Thrift store boots painted to simulate weights and metal. Belts for straps all from thrift store also. The helmet was created using a 14" kids ball, 4 layers paper maché to make solid. The collar was poster board, then paper maché. Both spray painted with hammered copper paint. The collar is lined with gray duct tape to make sturdy. The portals for each window on the helmet is a 4" PVC toilet flange from hardware store, then I added 4" rubber gasket used for trailer lights found online cheap. Spray painting both hammered brass. I cut thin clear plastic from a folder and hot glued to the gasket. The metal protection over each are wire hangers cut and bent. The different valves on the helmet are a variety of old faucets and copper pipe pieces from hardware store. Some left over from an old rain barrel we had. All spray painted in brass color. Inserted and hot glued to paper maché. Lots of hot glue! Inside the helmet I added a blinking bike light red and a USB fan connected to a phone charging battery. The weights on my belt were plastic butter containers from thrift store hot glued together and spray painted, then velcro to belt. Air tank on back is an air pump from thrift store with vacuum hoses. My kids had the octopus from toy bin. I even added a drink port on the front of the helmet to stay hydrated. The helmet connected to the chest plate using magnets and scrap metal. I added cheap drawer latches for extra support due to weight. Overall, a great time and fun build. A big hit at work and other Halloween parties.