Deep Sea Diver and Angler Fish Costume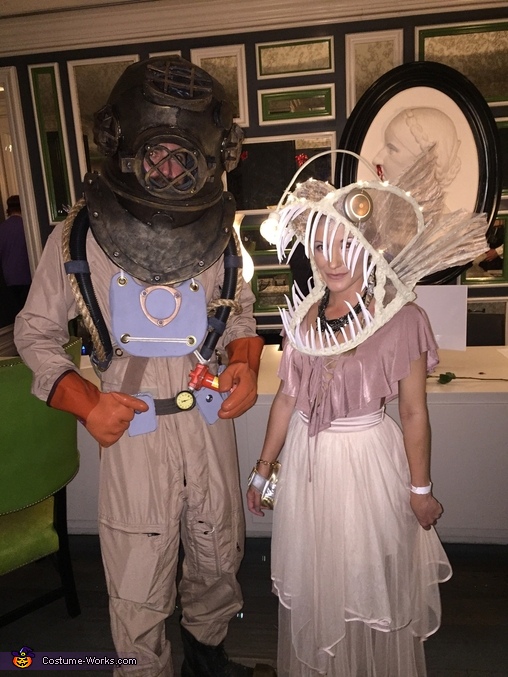 Deep Sea Diver and Angler Fish Costume
More views:
(click to enlarge)
A word from Traci, the 'Deep Sea Diver and Angler Fish' costume creator:
Iíve always loved the idea of the deep sea. I mean when you think about it, whatís really down there? Shipwrecks, giant squid, sea monsters oh my. I made this Mark IV diver helmet out of EVA foam with some basic plans I found online. Itís hand shaped and painted with gold picture frame paint from Michaels. I found an old helicopter pilot jumpsuit at a military surplus store in El Cajon. For the gauges and air hose, I took apart the old shop vac with some tape to attach an old air compressor valve. Also repurposed some rubber boots with foam toe caps painted to look like lead. To top it off I wanted the helmet to blow bubbles so it looked like you were on the sea floor. I managed to wrangle up a toy bubble machine and fasten it to a faux steel bucket I was wearing on my dive belt. Worked magically!
Whatís a deep sea diver without a little sea life huh? My wife is a fan of couples costumes so I had to take it up a notch with the king of all deep sea creatures...the Angler Fish. This nautical treasure is such an interesting specimen if I do say so myself. To make the gaping jaws I went with garden tubing from Local dollar store which was easy to bend into two arcs. I attached the upper and lower jaw with light gauge wire by drilling small holes in each tube, then threading the wire through like thread. After the structure was in place I coated the tubes with all purpose bondo. After painting the off white color it looked just like bone. So cool. We decided to add some bioluminescence by hot gluing on some Christmas low voltage lights down the spine and rib areas. The extra lights we balled up and ran down the center antennae for the bright Angler bulb in front of that sinister mouth. For teeth, just white EVA foam cut like sharp slivers. Side by side these 2 are a match made in heaven.
I loved making these 2 costumes. They turned out better than expected. The Angler Fish was absolutely stunning at night all lit up.