Dark Coraline Costume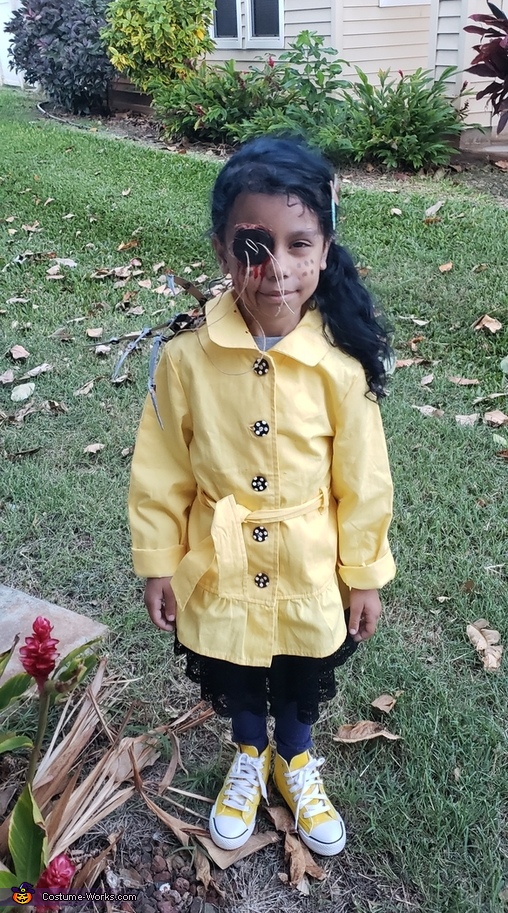 Costume
More views:
(click to enlarge)
A word from Hannah, the 'Dark Coraline' costume creator:
This costume is an artistic take on the Character "Coraline". The concept is that the hand of the Beldam that got cut off by the door, caught up to Coraline and attacked her, trying to sew the buttons into her eyes. Dark Coraline wears the iconic yellow coat and yellow shoes, with the exception that we decided to elevate from rain gear to a trench coat and trendy high tops to add our own flare and personality.

The costume is being worn by my daughter, Yael, age 6. It was made for under $30 with a goodwill jacket, shoes from payless that I painted, and materials from around the house (cardboard, twine, duct tape,and acryilic paint). I also made her prosthetics myself from cardboard and latex. We opted for dying her hair blue instead of a wig.

I crafted the Beldam hand from cardboard I cut out and fit together, and then painted. Her dragonfly hair clip was also made from painted cardboard.

Coraline is my daughter's favorite character and she loved portraying this more horror oriented incarnation. We had a couple versions of prosthetic eye that we made and tried (both are pictured.) The first was simply a button and a gouged eye, the second I built a more raised, larger socket prosthetic and added stitches like the dolls sewn by the Beldam.

I really enjoyed bringing her ideas and creative vision to life for her, especially on our very limited budget and I hope you also enjoy this costume/cosplay!