Teenage Mutant Ninja Turtle Michelangelo Costume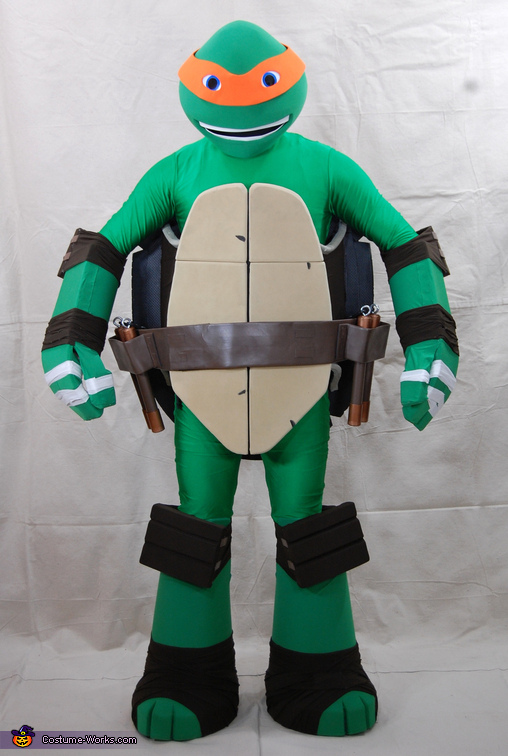 Arms open for a view of the side panels and nunchaku
More views:
(click to enlarge)
A word from Bales, the 'Teenage Mutant Ninja Turtle Michelangelo' costume creator:
Mikey has been on my list of costumes for several years, I just need to build my foam-crafting skills before taking on a costume with this many parts. The primary factor is that I like the costume/character to be recognizable and fun for kids. If time and money hadn't been a factor, I would've liked to make all four of the turtles. The secondary factory is that I like to learn new techniques, as well as reinforce those learned in the previous years.

All of the body parts (arms, legs, head, chest, shell) were fabricated using EVA foam. Everything is built from scratch and I make poster board templates as I progress. The shell was finished with spray paint while the remaining parts were wrapped in spandex. For the eyes, sunglass lenses were masked and spray painted – blue ring for the iris and white for the sclera. The belt is made from vinyl wrapped around a 1/8" foam core – it features pouches for storing Mikey's Nunchaku, which are comprised of ¾ PVC pipe and couplers, plastic chain, eyebolts, fender washers, and lock nuts. They were finished with spray paint, wrapped with vinyl, and are fully functional.

The legs are stepped in from the top and secured to my foot with nylon strap/plastic buckle. Most of the shell's weight is supported by a concealed nylon strap and buckle, which secured around the waist like a belt. Four more buckles close the front and hold the sides/shell tight against my body. The chest plate is secured to the front with Velcro – nicely concealing the aforementioned strapping. The belt attaches to three points on the shell, a center point on the chest plate, and then to itself to close the loop. The arms slip on and the fit is snug enough that they don't require additional strapping. The head incorporates an adjustable suspension system, which is also fabricated from EVA – the sides can be shimmed to acquire a tighter fit.

Not only is the belt attached with velcro and there removable, but so is the mask. This makes it possible to convert to custom in any of the other turtles. Fabricating the various belt versions and weapons would take a bit of time, but since a template exists for the masks, those would just be a matter of wrapping the foam with spandex.

In addition to the costume, I made two props for Trick or Treat night. One was a EVA manhole cover and the other was an EVA pepperoni pizza - with a removable slice for photo ops.

Materials: EVA foam, spandex (green, brown, tan, orange), vinyl, white T-shirt, Velco, sunglasses, Plasti Dip, various spray paint, PVC, various hardware.
*The only purchased and non-processed item was a green morph suit.
Consumables: Contact cement, hot glue, spray adhesive, VHB tape, thread, spray paint.