Candyland Characters Costume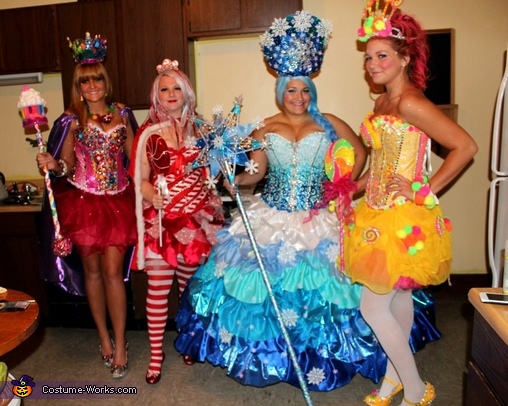 All candyland characters!
More views:
(click to enlarge)
A word from Gabbie, the 'Candyland' costume creator:
Characters from Candyland. Queen Candy, Miss Mint, Princes Lolli, and Queen Frostine.
Gabbie came up with the idea, we all love color and expressing ourselves.
These are all handmade. We only bought the corsets (white originally) and the tulle and hoop skirts (white orginally) to build everything off of. Everything else was created from armatures of wire, glue, and mesh.
We began by dying our corsets the desired color. Then we all began embellishing the corsets with sequins, rhinestones, melted down pony beads, acrylic paint, ribbon, beads, and so much more. We moved onto our skirts where we continued to add embellishments.
We bought old shoes from goodwill and covered them in embellishments as well. We created our staffs from styrofoam, wood dowels, PVC pipe, and more.
We are crafty and artistic girls. We LOVE making our own costumes. We hope you enjoy!