2012 Halloween Costume
Contest Winners!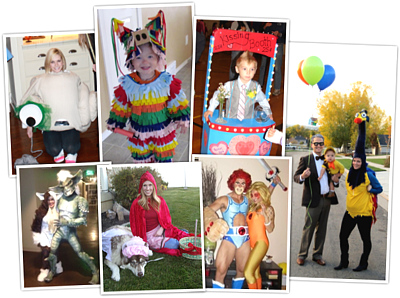 Thanks to everyone who entered our 2012 Halloween costume contest! This year we received 2446 contest entries from all around the World, and judging was not an easy task!
We have 6 categories in our costume contest this year:
Most Creative Costume
Winners in the 4 nominations below were selected by Costume-Works.com Team members. We tried to choose the most original and creative costumes, while the quality of photos and costume description played an important role in our decision making too. And the winners are:
This year we have 3 special prizes for the most creative couple, family and group costumes:
Coolest Adult Costume
Best Children's Costume
Best Pet Costume
Favorite Halloween Costume
Winners in the two categories below were selected by your votes. Actually not just votes, but also by response from popular social networks. This year we decided to not make a secret of our score calculation. Our costume popularity score formula combines on-site rating (stars, comments, visits), with the measures of activity provided by social networks: Pinterest "repins", Google +1's and Facebook "likes".
The winners of the Favorite Halloween Costume competition are:
1st Place
Autumn as the cutest Little Old Lady, costume created by mom, Angie.
Prize = $100
2nd Place
2 year old boy in his amazing Pinata costume, created by mom Wendi.
Prize = $50
3rd Place
Lola as the Crazy Cat Lady, costume created by mom.
Prize = $25
4th Place
Stephanie, her husband and son as Disney's Up characters: Mr. Fredrickson, Kevin & Russel
Prize = $10
5th Place
Beetlejuice Family: Barbara and Adam Maitland, Lydia Deetz and Beetlejuice, costumes created by Stephanie.
Prize = $10
6th Place
Josiah and his family as Napoleon Dynamite characters.
Prize = $10
7th Place
9 month old baby as Mouse Caught in a Mouse Trap, costume created by dad Michael.
Prize = $10
8th Place
Pretty Yamileth and her cousin as Dr. Seuss' Thing 1 and Thing 2.
Prize = $10
9th Place
Lark with her creative Wind Up Doll costume.
Prize = $10
10th Place
Regan and Zach dressed as Juno and Bleeker couple.
Prize = $10
(View Favorite Halloween Costume Chart: Top 100)
Favorite Pet Costume
1st Place
Tobee, one year old boxer puppy, as Country Cutie.
Prize = $50
2nd Place
Ginger as Freddy Krueger, costume created by Stacey.
Prize = $25
3rd Place
Chyna, dressed as Marilyn Monroe.
Prize = $10
4th Place
Larry and his "American Bobsled Hotdog Team", costume created by Kim.
Prize = $10
5th Place
Molly and Patches as Bride and Groom, photo sent in by Anthony.
Prize = $10
(View Favorite Pet Costume Chart: Top 100)
Congratulations to the Winners!!!
All the winners were notified by email on November 21-23, 2012.
If, for any reason, you did not receive an email from us -
please check the 'SPAM' folder of your mailbox,
OR contact us using this form
*** please include your Full Name, your PayPal address,
and your Contact Email address
(the one that you used to enter the contest) ***
* * * * *
Thanks to all the contestants - you are all awesome!
We hope to see you again in our next year's
Halloween Costume Contest!

View all the costumes from
2012 Halloween Costume Contest at Costume-Works.com