Wild Thing Costume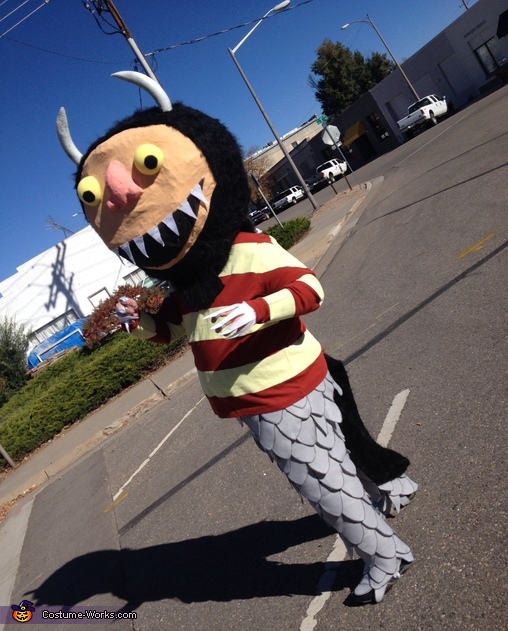 Wild Thing!
More views:
(click to enlarge)
A word from Ben, the 'Wild Thing' costume creator:
I wanted to pay homage to my favorite children's book: Maurice Sendak's "Where the Wild Things Are." I decided to do the Wild Thing with scales on the legs and a striped top.

For the pants: we cut many, many, MANY scallops out of gray felt and sewed to an old pair of sweatpants. We bought a longsleeve maroon shirt and used fusable interfacing to attach pale yellow fabric for stripes.

For the head, we started with 3 large quilting hoops and zip-tied them into a sphere shape. Then we covered the head with chicken wire as a base for paper mache. After doing a few coats of paper mache, we painted the face area as well as used some big pieces of paper to make a pattern for the fur to cover the back of the head. The horns were shaped from a foam ring/wreath base. The nose was formed from a small football and a couple ping-pong balls that was covered with another layer of paper mache. The horns, fur, eyes, and mesh covering over the mouth were attached with hot glue. Hot glue is your friend! Teeth were cut from white felt. The head was mounted on a frame above a bicycle helmet, which allowed the helmet to float above the shoulders. Visibility was through the black-mesh covered mouth area.

A tail was quickly made with hot glue and some of the extra head-covering fur. Claws were cut from white felt and had loops of elastic on each finger. Spats were created with a few more of the felt scallops to make the look continue to the ground.

Then I "Gnashed their terrible teeth and showed their terrible claws!"