Voodoo Priestess Costume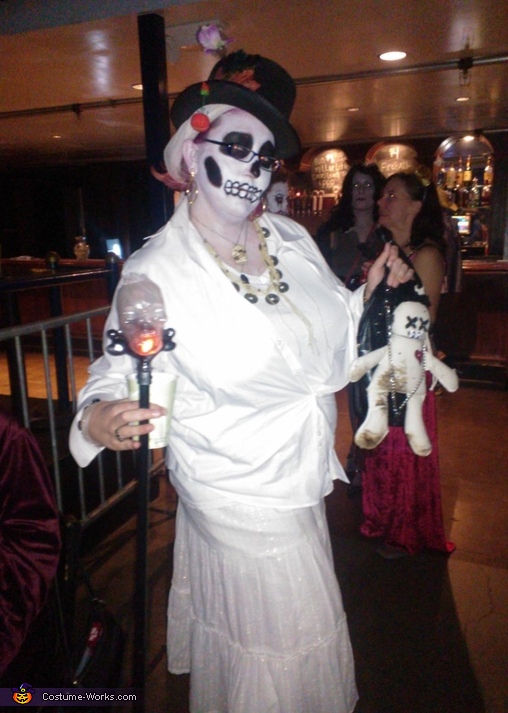 Full body
More views:
(click to enlarge)
A word from Octavia, the 'Voodoo Priestess' costume creator:
I am wearing the Voodoo Priestess costume, I had the idea after watching the Disney movie 'The Princess and The Frog' and wanted a darker feel.

I got most of the pieces for my costume from thrift stores, the hat and socks being the only exception, I bought the hat from a Halloween store and I already had the socks.

The pieces I have on are; white knee socks, thin sweats, summer dress(I thought it was skirt and used it as one), shirt, a dress shirt, head scarf, hat with pin cushion, coffin purse with attached Voodoo doll, and glowing skull walking staff.

The skull choker used to be a keychain but broke, so I fixed it into a necklace. The coin necklace is a belt I borrowed from my grandmother. For the hat I used a fake flower, leaves and feathers from a mask from a dollar store. Found a small pin cushion and safety pinned it to my hat for my pins. Painted the doll with some cheap paint, and colored the heart with some dark red nail polish put a noose around his neck and attached him to my purse. The staff I cut his head open and threw in a battery operated flicker candle which looked really neat.

The makeup I did myself and used Paradise Makeup AQ very wonderful long lasting makeup.