Plants vs. Zombies Costumes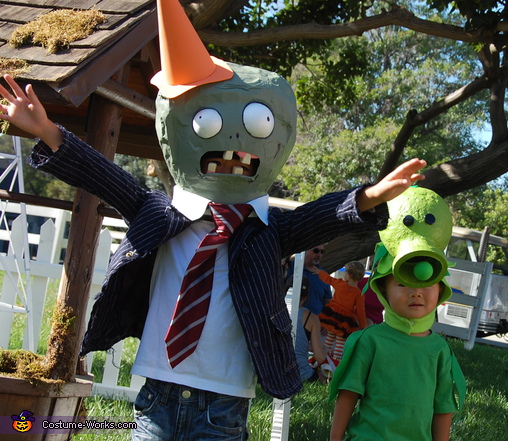 Zombie running away from Pea shooter!
More views:
(click to enlarge)
A word from Sandy, the 'Plants vs. Zombies' costume creator:
My boys love the "plants vs. zombies" video game so I decided to make their costumes this year.
For the zombie: I paper mached a 12" balloon and added dimension by using more newspaper and masking tape. Then I cut out holes for the eyes and mouth. I painted with acrylics and used styrofoam bals for the eyes and a styrofoam block covered in masking tape for the teeth and gums. The cone is made out of foam sheets. I glued an old shirt collar and tie to the neck base and used an old jacket and ripped jeans to complete the costume.
For the pea shooter plant: I paper mached a 9" balloon and used a styrofoam round piece for the mouth. I painted with acrylic paint and glued black buttons for the eyes. In order to keep the head on a two yr old, I sewed a head piece out of felt and then glued the pea shooter head to it.