Van Gogh Mashup Costume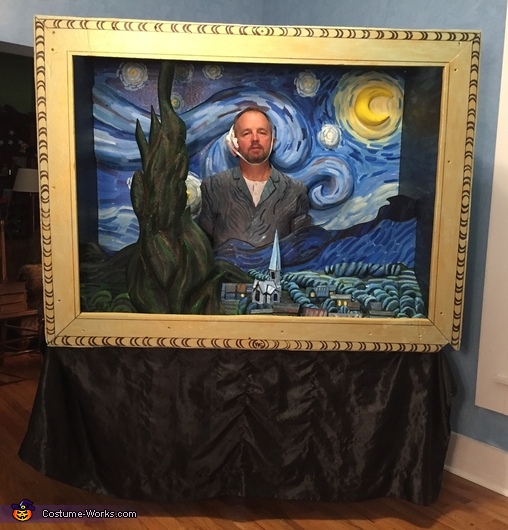 Front view
More views:
(click to enlarge)
A word from Steve, the 'Van Gogh Mashup' costume creator:
My costumes have been getting progressively more elaborate over the years, to the point where (as my wife would tell you) I am now completely and ridiculously over the top. I take them into my office's contest every year, and then out trick or treating. The kids love them.
I've always been a Van Gogh admirer and this idea actually came to me the day after Halloween last year. I figured most people would recognize Starry Night. The shirt, jacket and bandage come from a couple of his self-portraits. I worked on it off and on for about a month on the weekends and evenings. It's made of sheets of Styrofoam insulation and painted with acrylic paint. Styrofoam is a great material for costumes - it's relatively cheap, light weight and reasonably durable. Cutting and carving the shapes is easy with a drywall saw and utility blade. Held together with drywall screws. It's fully mobile but I just hope the wind doesn't blow too hard tomorrow night.