Valka and Hiccup Costume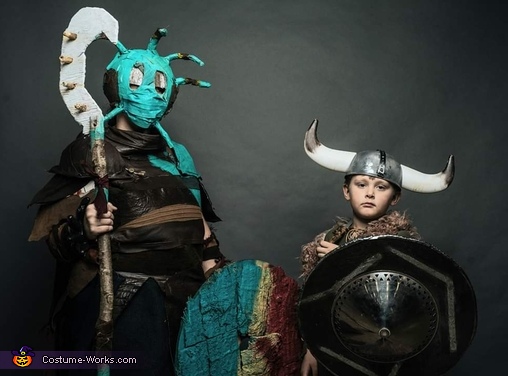 Serious
More views:
(click to enlarge)
A word from Rachael, the 'Valka and Hiccup' costume creator:
This is my son and I as Valka and Hiccup from the How to Train Your Dragon movie.

These are completely made from scratch costumes.

I bought several synthetic leather pieces of clothing and pillow covers and cut them to into strips to make Valkas costume using hot glue and a sewing machine. The mask is made out of an old basketball covered in paper machete. The long hook stick is from a stick and some scrap wood.

Hiccups outfit was a fur jacket cut and sewed into a vest. The helmet was a Chicago Bulls helmet that I added metal to and painted with special metal spray paint.

Valkas Sheield was made from some big bark pieces I found in the woods and a bolted metal handle on the back of plywood.

Hiccups is the same except the metal piece we a decorative bowl that I screwed on the front.

His sword was Prince Charming's sword from Cinderella's castle, repurposed.