Thing 1 and Thing 2 Twins Costume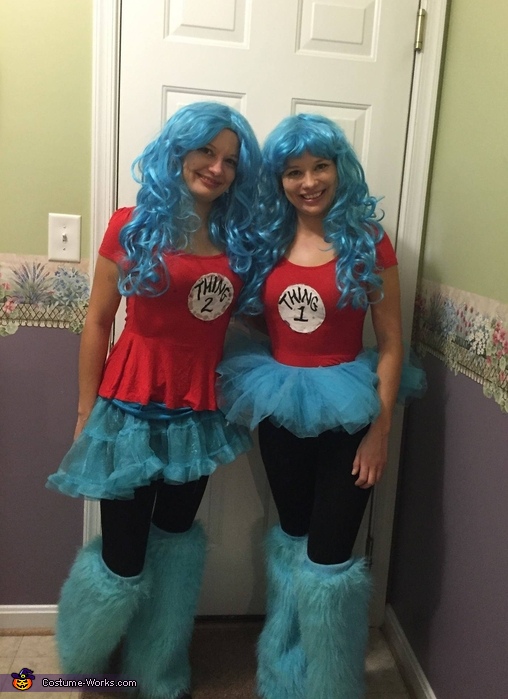 Which is Which!?
More views:
(click to enlarge)
A word from Katie, the 'Thing 1 and Thing 2 Twins' costume creator:
Last year we bought all parts of our costumes separately and added them together. We cut out the white circles and sewed them to two of the red shirts that we had. Then we used felt marker to write Thing 1 and Thing 2 into the fabric. We bought the leggings, the tutus and the wigs separately.
As children, we grew up reading and listening to Dr.Seuss stories. Our mom would often say that we reminded her of Thing 1 and Thing 2; half-jokingly. We would often encourage each other to get into mischief such as deciding it was a good idea to pull all of our clothes out of our drawers in the middle of night or hanging Christmas ornaments onto the back of someone's pants so to speak. In addition, as twins we did have our own language when we were young, just as Thing 1 and Thing 2 did! For one example, "ga-ga-gawee" was a word which meant "jump on the couch."
Thus, when we went as Thing 1 and Thing 2 for Halloween last year, our mom said that it seemed only fitting!