The Judges of NBC's The Voice Costume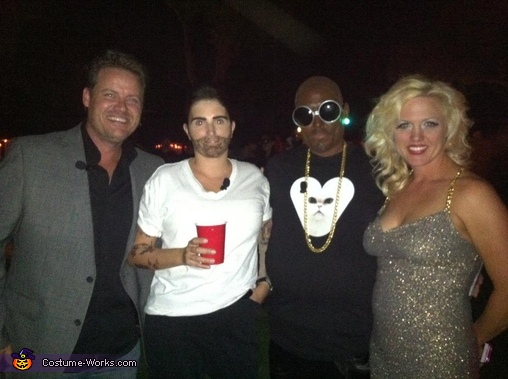 The Voice Judges
More views:
(click to enlarge)
A word from Cassie, the 'The Judges of NBC's The Voice' costume creator:
Blake Shelton = Ron Canny. Ron's costume was the easiest of the group. He only had to grow our his hair and beard.
Christina Agulara = Cassie Mueller. Cassie found a make up tutorial on you tube on how to apply make up like Christina. Since she is already blonde, a wig was not needed however platinum blonde wigs are available at all halloween stores. Cassie has to get a super dark spray tan and find a sexy party dress
CeeLo Green = Chris Mueller. Chris purchased a belly stuffer undergarment at the halloween store. He grew out a goatee. Purchased the white kitty shirt that CeeLo wore on the show last season online. Chris had to use a blad cap and theatre makeup to get CeeLo's coloring.
Adam Levine = Laura Canny. Laura wore men's doc martin boots, jeans and a white t shirt. She tied back her short bob haircut to look like Adams hair. She took some trimmings from her haircut to make a beard and colored in her eyebrows to get Adams think brows.