The Titanic and the Icebergs Costume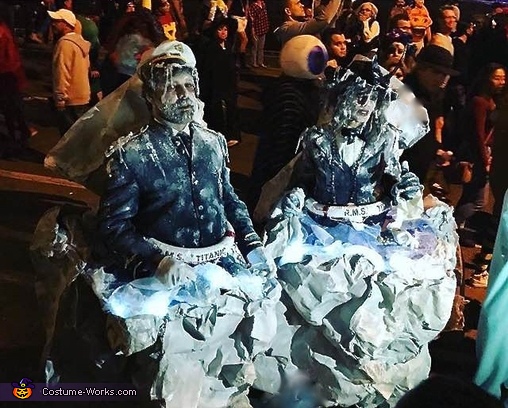 Titanic passengers and Iceberg
More views:
(click to enlarge)
A word from Kim, the 'The Titanic and the Icebergs' costume creator:
Naturally I am addicted to Halloween… I always enjoy basically walking art installations as a costume, the bigger the better, more is so not less when it comes to me. I am consumed with adding details galore! Creativity is my drug. So this year I had been fixated on frozen images, I always wanted to somehow do one, so that lead me to Titanic. And also I am a Titanic fan, the real Titantic not the movie. I have read countless trivia on the ill-fated line, and also I think Capt Edward Smith is one of the biggest heroes to exist in time. So in a sense… a tribute, Halloween tribute. We were so caught up in getting ready we never got a chance to our pics! So all these pics are from publications, Instagram accounts, etc. Strangers wanted to share their pics with us via the inter web. And then friends saw our pics in LA Weekly the next day.


Entire costume is handmade by me, even the snow! Turns out you can not buy snow, ice decorative items till after Halloween. SO, that led me to go into creative overdrive. I hand painted all the Icebergs. Which were made of shipping brown paper, I shaped them into boulders and icebergs and stapled and glue all seams, use cardboard for our water surface in a blue hue covered in wax paper I crinkled to look like ice. That is giant icebergs attached to our backs. I painted shading, fake snow, ice and even added lights under the water to give an ocean, frozen effect. I made all icicles by dripping, one by one, glue sticks on wax paper (that WAS tedious, but so fun, burns to prove it :). I even made my boyfriend's Captain details; hat, jacket into uniform, made my hat, clothes came from my closet. I made the snow with baby powder, white paint, and clear spray. Use waxed paper above water to give ice water effect. You can see, but I had champagne glasses, jewels, and china floating onto of it, including a frozen hand out of the water. I glued my glue gun ice to our faces, hair, costume. I made the life rings, out of sty foam, iced them, roped them, detailed them up all on my own. The 'Icing' (pun intended) was, we stayed in character all night, completely frozen looks, gazed over stares. Yikes, that was hard as well.

The reactions were beyond surreal. We live in Los Angeles, and went to West Hollywood Halloween Carnival, with 500, 000 people in attendance. It literally took us 2 hours to walk 5 blocks. At any given moment we were surrounded by 50 people shooting pics. It got to be so much we had to hide in an alley to catch our breath. We now can empathize what Justin Bieber or any other heart throb goes through with people chasing you and paparazzi cornering you, I kid you not, it was like that. Everyone had to touch us and stop us, the reaction was mind blowing and I did not expect it. Everyone loved it so much, they even wanted us to hold their babies like politicians so they can take pics!! Say what??~~!! It was crazy fun.