The Stanley Cup and Pittsburgh Penguins Player Costume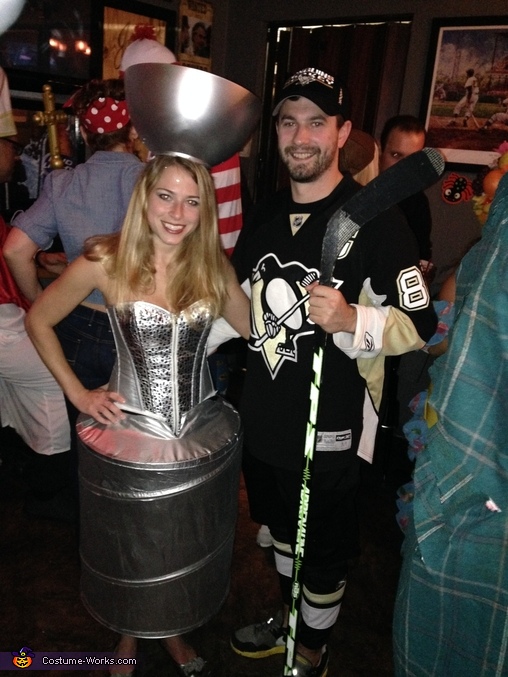 The Stanley Cup and Pittsburgh Penguins Player Costume
More views:
(click to enlarge)
A word from Jacki, the 'The Stanley Cup and Pittsburgh Penguins Player' costume creator:
I am the Stanley Cup, while my boyfriend dressed up as a player. We got the idea since the Penguins had just won the Stanley Cup, and thought it would just be a perfect couples costume since we live in Pittsburgh!

The costume itself is entirely homemade, consisting of a collapsable laundry hamper, a silver corset purchased online, a plastic punch bowl from Walmart, silver spray paint, velcro and elastic band.

First I spray painted the hamper entirely. Then, I cut a small circle with sort of an 'X' across it, so I could slide it over my waist. Next I sewed velcro onto the bottom of the corset and the corresponding area on the hamper to connect it seamlessly.
The punch bowl was the most challenging part. I had to remove the bottom of the bowl so it wouldn't move as much on my head. Then I cut two small slits on both sides of the 'ridge' on the bottom so I could feed through and hold the elastic band. Next I used two blocks of wood screwed inside both sides of the bowl (even with the slits) which held the loose ends of the elastic so the bowl would be adjustable to fit my head. Importantly, the wood had to be rounded to fit flush inside the bowl in order to hold the elastic securely.

Altogether the costume cost $43 for the hamper, corset (from Amazon), punch bowl, Velcro and spray paint. My parents had elastic. My boyfriend got off easy since he already had the stick and jersey, bought a hat for $15 and actual hockey socks for $19.